March 4, 2016
WORLD CHAMPION PHILIPPE CHIAPPE WINS IN DUBAI
F1H2O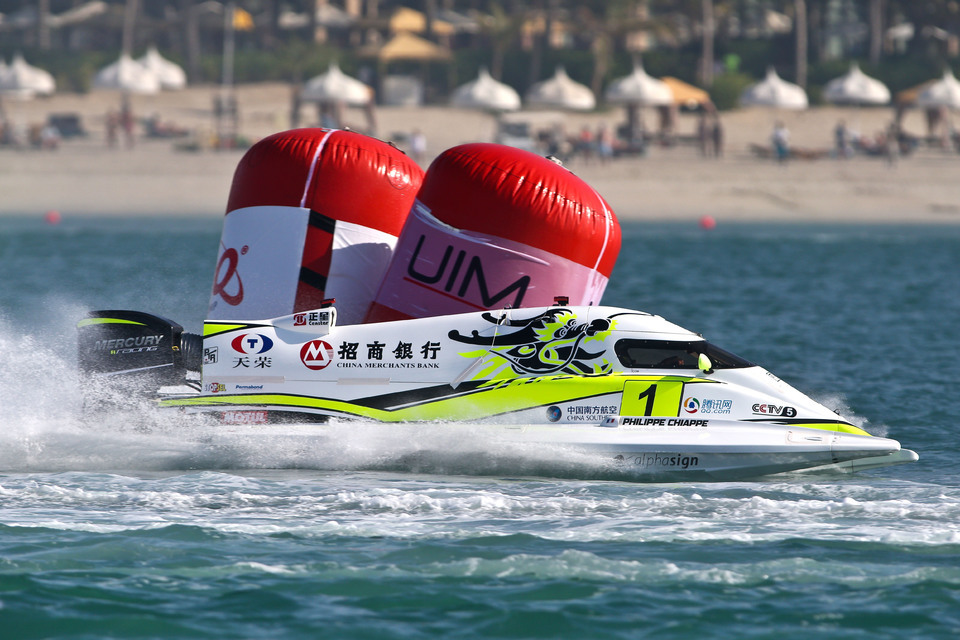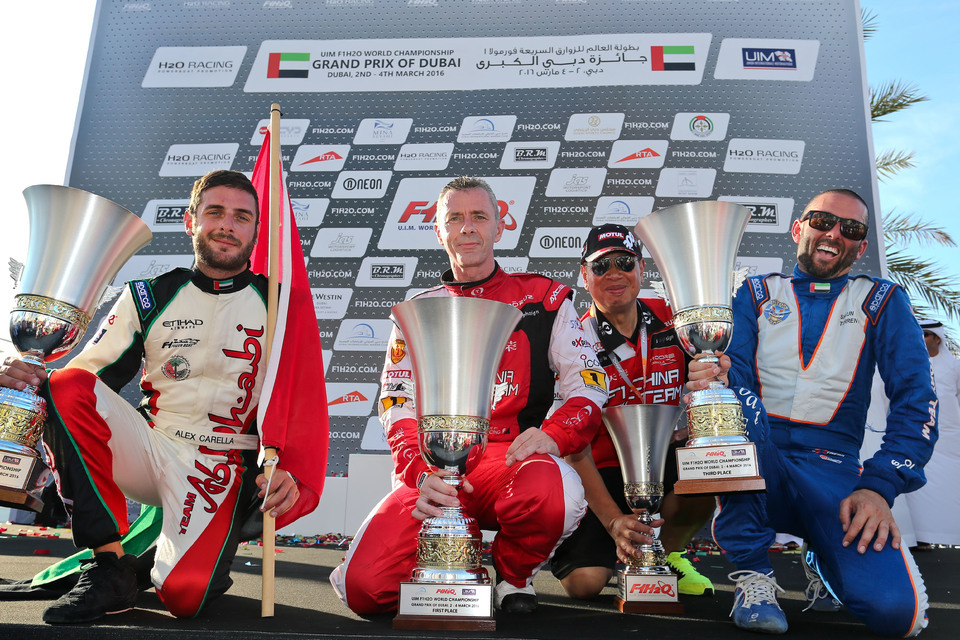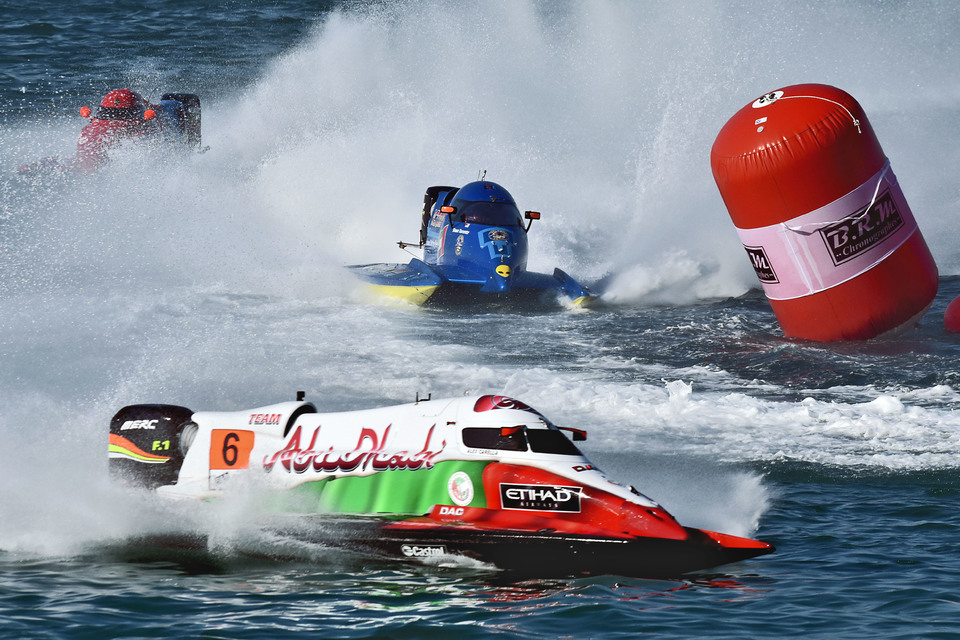 Friday, 4 March, DUBAI (UAE): French driver and two-time World Champion Philippe Chiappe rocketed off from the start and led every one of the 48 laps to win the inaugural Grand Prix of Dubai at the opening round of the 2016 UIM F1H2O World Championship held along the inner city lagoon in front of thousands of spectators in downtown new Dubai.
The CTIC F1 China Team driver made a clean start and was being pushed hard from start-to-finish by Team Abu Dhabi driver Alex Carella. The three-time champion, tried every which way to find an avenue to slide into a strong position to challenge through traffic, but, it never happened with Chiappe holding point and winning for the sixth time in his career. "It was a great way to start the season and a great day for my team, as my young teammate "Leo" Xiong finished fifth for the best run in his career," said the driver from Rouen.
"The restart was no problem as we had clear water, but the final few laps and a lot of traffic on this small 1.96 kilometer race circuit forced me to make every move a smart one in the final moments with Alex hovering right behind.
"It worked out in the end and it's nice to go home with 20 points in the bank heading to my home race in Evian, France in mid-July."
Second place driver Carella was like a shadow to Chiappe, but couldn't get close enough to challenge the leader at the end. "I tried everything I could to find a way to get close to him but couldn't quite do it," said Alex. "I'm hoping we can find that little bit extra in France and this time take the victory."
Team Abu Dhabi's other driver Thani Al Qamzi who had qualified sixth dropped out early on lap seven and wasn't a factor.
Home standing Victory Team driver Shaun Torrente of Miami had to claw and scratch his way to the podium with a third place finish after starting fifth. The American finally passed fourth placed Jonas Andersson of Team Sweden on a nifty move on the restart at the two-thirds mark of the race earning him 12 valuable points for the organization that is based in Dubai. "Yeah, I battled with Jonas all day long," said the Florida driver. "We had great fun and I really enjoyed the restart. I'm worn out but satisfied with a podium start to the season."
With the top four drivers finishing on the same lap, Chinese driver Xiong, a lap down, had his best finish of his career with a fifth place after qualifying in seventh yesterday.
Duarte Benavente of Portugal and the F1 Atlantic Team took seventh in his French built Moore boat, while veteran Italian driver Francesco Cantando was eighth in his Blaze Performance Team hull making his 36th career start in the Emirates dating back to 1996.
Young Filip Roms of Finland flew the flag for his BABA Racing team coming home in ninth with two points despite taking out one of two turn one buoys and being forced to make a slow drive through. His veteran teammate and two-time World Champion Sami Selio had heartbreak at the start failing to get around even one lap with engine problems ending a less than spectacular start to his 2016 campaign.
Bartek Marszalek of Poland was the final driver to earn a point, finishing in tenth place for the Blaze Performance Team.
Jesper Forss of Team Sweden had a spectacular end to his drive on the 27th lap when he blew the boat over end over end one and one-half times before barrel rolling to a stop thankfully coming out with no injuries and forcing a yellow flag and a re-start to the race.
Marit Stromoy of Norway was up in the top ten when she stopped suddenly down on the east side of the circuit on the seventh lap as she was hoping to finish on the podium for the second straight race. It was not to be for the EMIC Team driver.
Thirteen of the 18 starters finished the event as the series now takes a spring recess before heading to Evian in France for the second round of the UIM F1H2O World Championship on the 15-17 July.