March 3, 2016
DEFENDING WORLD CHAMPION CHIAPPE ON POLE IN DUBAI!
F1H2O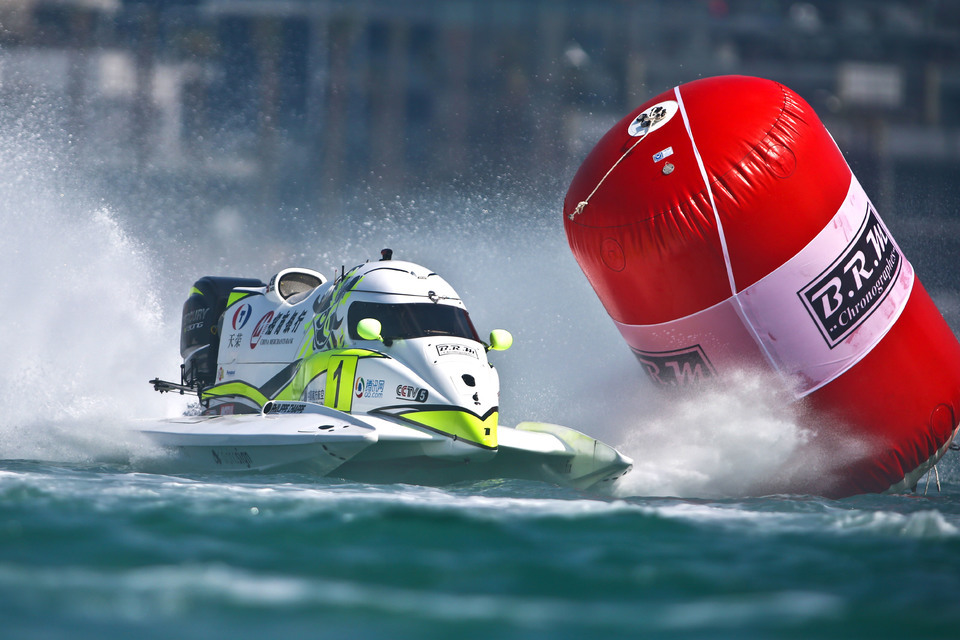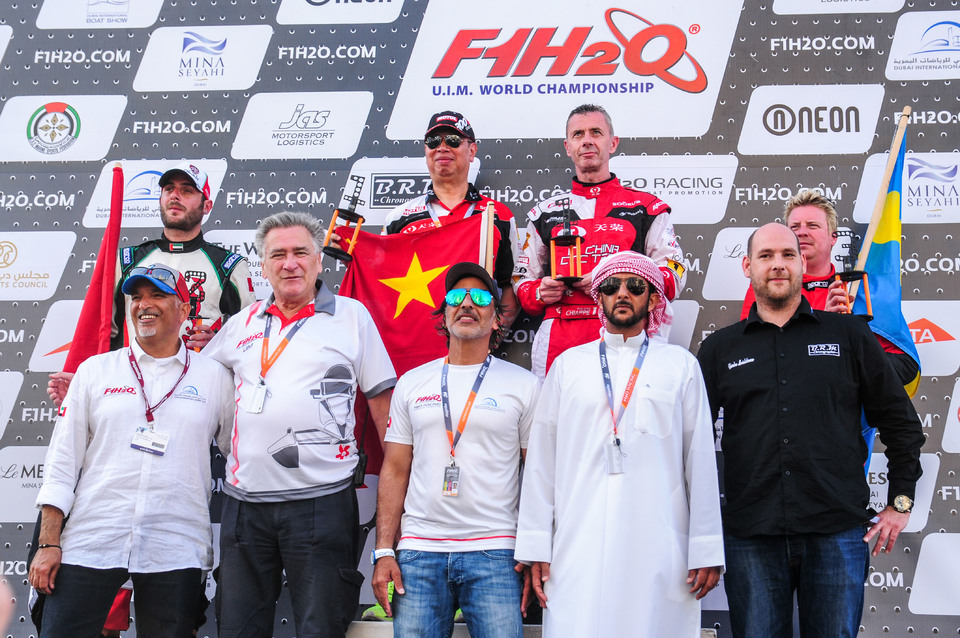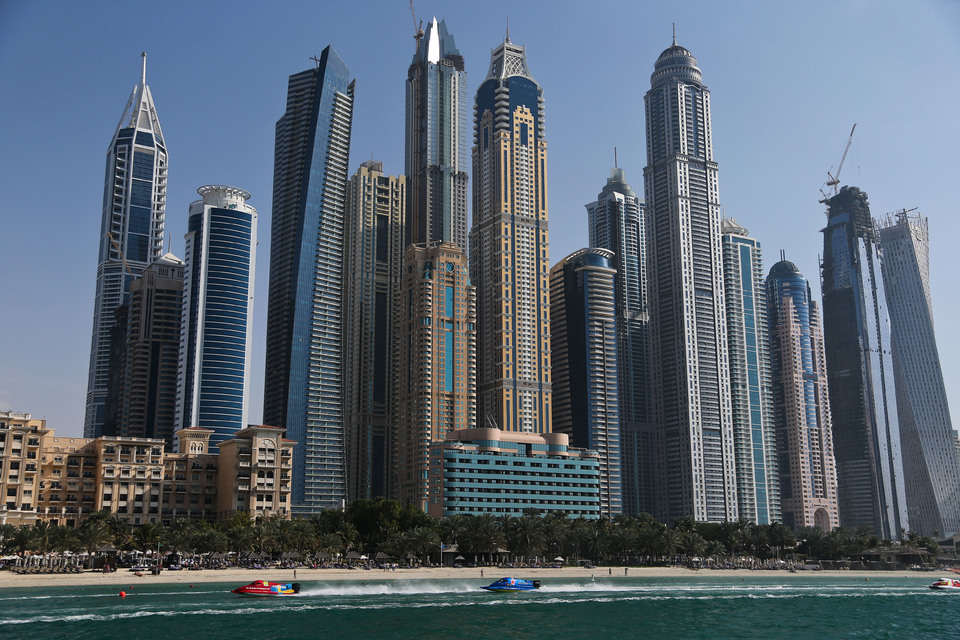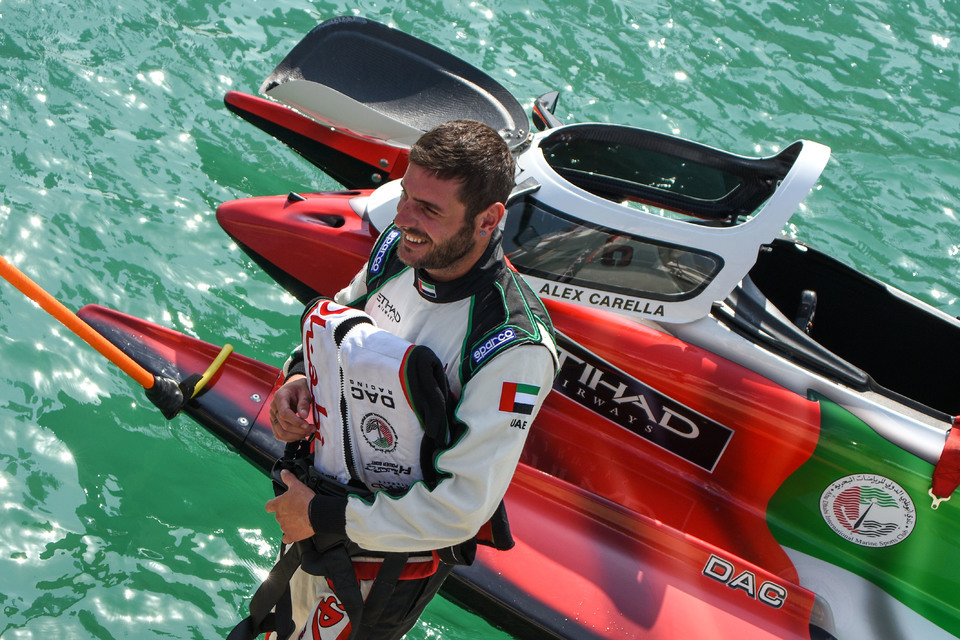 Thursday, 3 March, DUBAI (UAE): It all came down to the final lap of the afternoon, and defending two-time World Champion Philippe Chiappe of the CTIC F1 China Team once again showed that he is still the driver to beat, as he captured his fifth career pole position in this afternoon's BRM Qualifying for tomorrow's inaugural UIM F1H2O Grand Prix of Dubai.
The day was punctuated with heavy winds blowing in from the east and running parallel along the front and back straightaways, with only the bravest of drivers taking advantage on a bright sunshine filled day around the 1.96 kilometer (1.22 mile) five-pin circuit.
Eighteen drivers from 11 countries were whittled down to the top-six in the Q3 session with Swedish driver Erik Stark coming out first for the Emirates Team and posting a best 41.94s in his two solo laps and good enough for fourth place on the start pontoon.
Thani Al Qamzi of Team Abu Dhabi was out next and could only manage 42.17s for sixth place before Jonas Andersson of Team Sweden jumped to the top of the standings with a wonderful 41.78s, 172.33 kmh lap.
Local Victory Team driver Shaun Torrente from Florida pushed as hard as he could with a 42.06s lap and will start fifth in a brand new boat.
Torrente's old teammate Italian Alex Carella, now driving for Team Abu Dhabi looked like he was going to earn his 12th career pole with a sensational 41.61s lap until the two-time champion came out and on the very final lap burst his bubble with a superb 41.36s lap and earning his fifth career pole. "It took me to the final moments today," said Philippe with a smile. "We had a great set-up today but I over drove the boat on the first of my two laps and then got my mind straight and it paid off in dividends didn't it? It's my third pole position in my last six races and I feel pretty confident we can be at the number one position off the dock at any Grand Prix now. It's my crew that has brought me this package and my confidence is sky hi at that the moment."
Philippe's teammate, Chinese driver "Leo" Xiong, just missed making his first top-six shootout and will start seventh tomorrow after posting a 42.91s lap. In eighth place will be Norwegian Marit Stromoy of Team EMIC recording a 42.94 as she chased her second career pole but coming up short.
Ninth was Portugal's Duarte Benavente with 43.48s for F1 Atlantic and rounding out the top-ten was veteran Sami Selio of Finland with a 44.03s. Not the best of days for the two-time World Champion who had nine previous pole positions in the United Arab Emirates.
The inaugural UIM F1H2O Grand Prix of Dubai takes place on Friday at 15:30hrs [local].