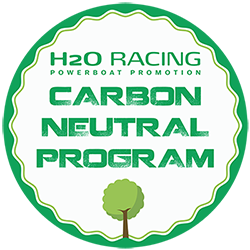 Every person has a responsibility to react and contribute to the growing concerns and issues facing the global environment.
H2O Racing has a great responsibility to it's stake holders, to the countries and people where it is involved and to support them by respecting their environment.
H2O Racing's carbon neutral strategy is very much in line with the strong direction on environmental responsibilities taken and implemented by Dr. Raffaele Chiulli, president of the sport's world governing body, the Union Internationale Motonautique (UIM), and its close working relationship with the United Nations Environmental Programme (UNEP).