September 29, 2023
TEAM ABU DHABI'S RASHED AL-QEMZI POSTS EARLY FLIER TO WIN GROUP B PRACTICE SESSION
F1H2O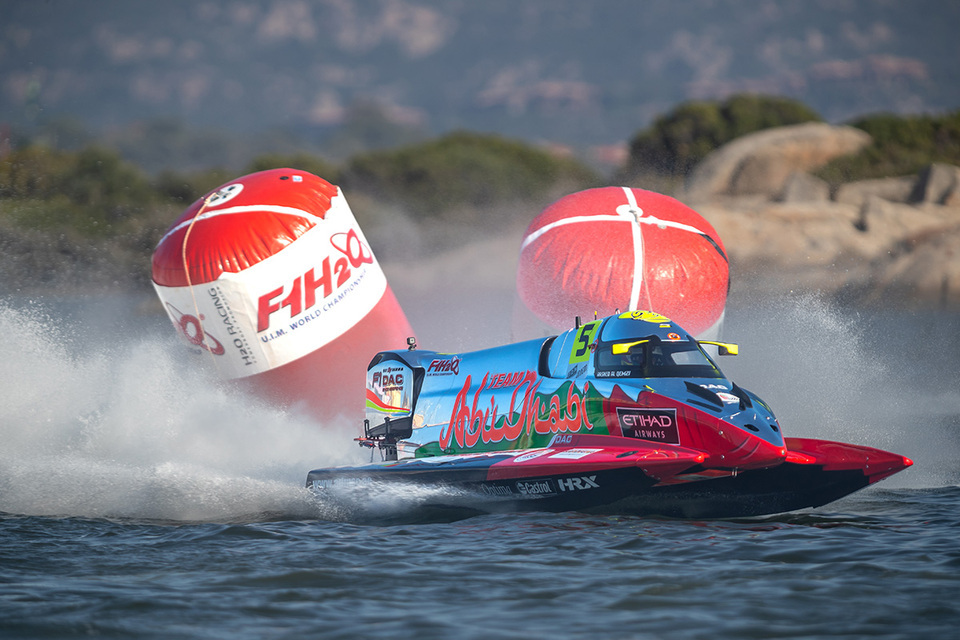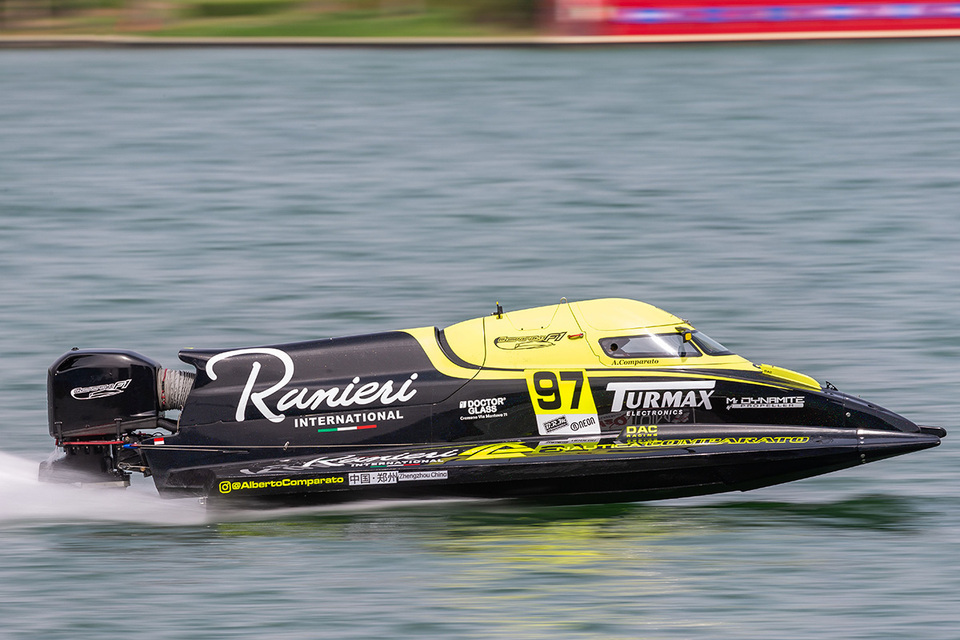 Friday, September 29: Team Abu Dhabi's Rashed Al-Qemzi posted a stunning early lap of 37.417sec to win the Group B free practice session for odd-numbered boats at the Regione Sardegna Grand Prix of Italy on Friday afternoon.
Young Italian Alberto Comparato (37.640sec) and England's Ben Jelf (37.916sec) finished the yellow-flag interrupted 40-minute stint in highly-creditable second and third positions.
Another 10 boats lined up for the second free practice session on the Olbia course. If the scrap between Jonas Andersson and Erik Stark hadn't been impressive enough earlier in the afternoon, Al-Qemzi delivered a sensational lap of 37.417sec in the opening five minutes of the stint for Group B drivers to storm to the top of the rankings after impressive early laps for Ben Jelf (37.916sec) and Alberto Comparato (38.700sec).
That early flier by Al-Qemzi was the benchmark through the opening 10 minutes of the stint and, by the halfway mark, Al-Qemzi continued to lead the way with Comparato up to second with a run of 37.640sec and double World Champion Sami Seliö climbing to fourth with a lap of 38.421sec.
There were no fundamental changes to the rankings heading into the final 10 minutes of a session that lacked the excitement of the Group A opener. But the yellow flag was raised with nine minutes on the clock and action didn't resume until there were just over six minutes remaining.
2023 Regione Sardegna Grand Prix of Italy – free practice times:
Group B
Rashed Al-Qemzi (UAE) Team Abu Dhabi 37.417 sec
Alberto Comparato (ITA) Comparato F1 37.640 sec
Ben Jelf (GBR) F1 Atlantic Team 37.916 sec
Sami Seliö (FIN) Sharjah Team 38.421 sec
Filip Roms (FIN) Mad Croc Gillman Racing 38.573 sec
Peter Morin (FRA) China CTIC Team 38.842 sec
Kalle Viippo (FIN) Team Sweden. 39.164 sec
Bartek Marszalek (POL) Strømøy Racing F1H2O Team 39.361 sec
Ahmad Al-Fahim (UAE) Victory Team. 39.449 sec
10. Cédric Deguisne (FRA) Maverick Racing 40.605 sec