September 29, 2023
ANDERSSON PIPS STARK TO FASTEST TIME IN OPENING GROUP A FREE PRACTICE SESSION
F1H2O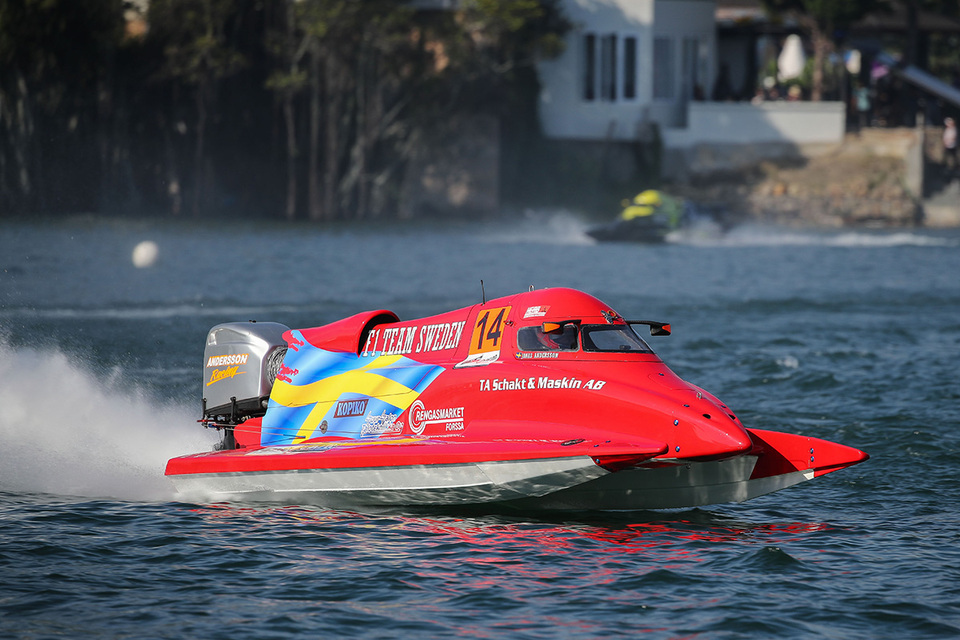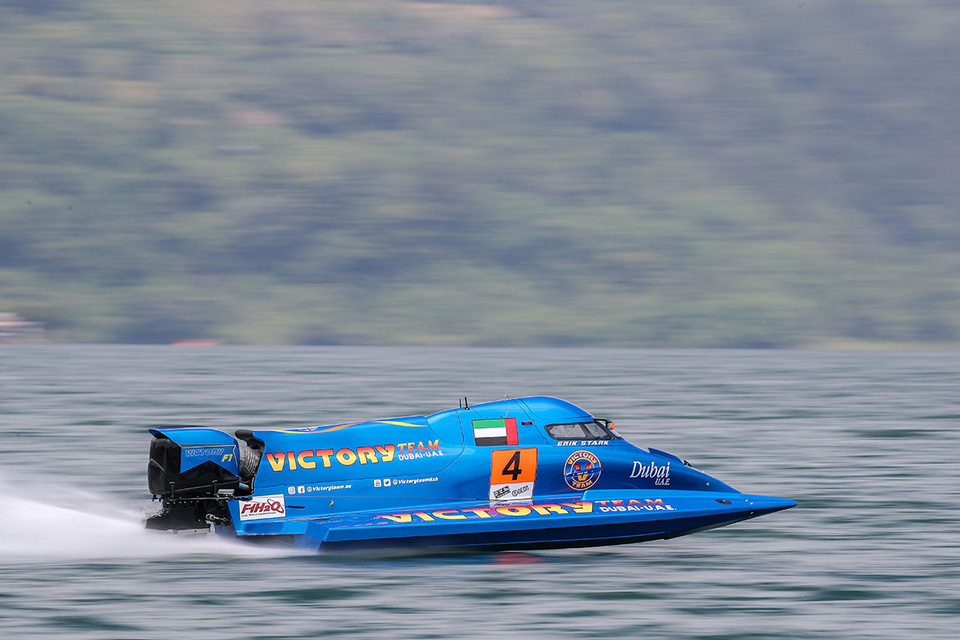 Friday, September 29: Team Sweden's Jonas Andersson carded a best lap of 36.764 seconds and pipped the Victory Team's Erik Stark by 0.213 seconds to top the times in a thrilling opening free practice session for Group A runners at the Regione Sardegna Grand Prix of Italy on Friday afternoon.
The China CTIC Team's Brent Dillard was the first driver to post a competitive time in the opening 40-minute session for the even-numbered boats. The American carded a lap of 39.885sec but that was soon surpassed with laps from Thani Al-Qamzi, Andersson and Stark. Andersson hit the front after five minutes of the stint with a 38.069sec flier but Marit Strømøy was struggling near the rear of the field after seven laps on the race debut of her new Mercury four-stroke powered DAC.
With 25 minutes of the session remaining, Andersson continued to top the times with a 37.944sec and Dillard had climbed to second ahead of Al-Qamzi, Stark and Ferdinand Zandbergen. Strømøy continued to dial in the new DAC and moved up to eighth with a best tour of 40.682sec and then broke the sub-40-second barrier for the first time with a 39.945sec lap.
Al-Qamzi hit the front soon afterwards with a sixth lap of 37.725sec as the session reached the halfway point, while Zandbergen leapt up to third with a best run of 37.972sec. Al-Qamzi continued to put laps on his DAC but the Emirati was unable to beat his session-topping time as the clock ticked down to 12 minutes to go.
Andersson continued to eat into the Team Abu Dhabi driver's advantage and the Swede closed to within 0.028sec of the fastest lap with 10 minutes on the clock, only for Stark to snatch second with a run of 37.754sec. The flying Victory Team driver then snatched the lead by just 1/100th of a second with a lap of 37.724sec. But Andersson was not to be denied and the World Championship leader hit the front with seven minutes to go with a stunning lap of 37.056sec.
The duel between the leading two Swedish racers was now reaching fever pitch and Stark delivered a late upper cut to go below 37 seconds and snatch the lead with a 36.977sec run. A late lap of 37.229sec by Dillard enabled the American to displace Al-Qamzi and snatch third. But Andersson saved the best to last and the flying Swede delivered the sucker punch in the last minute with a session-winning 28th lap of 36.764sec.
2023 Regione Sardegna Grand Prix of Italy – free practice times:
Group A
Jonas Andersson (SWE) Team Sweden 36.764sec
Erik Stark (SWE) Victory Team 36.977sec
Brent Dillard (USA) China CTIC Team 37.229sec
Thani Al-Qamzi (UAE) Team Abu Dhabi 37.445sec
Ferdinand Zandbergen (NLD) Sharjah Team 37.972sec
Grant Trask (AUS) Mad Croc Gillman Racing 38.173sec
Marit Strømøy (NOR) Strømøy Racing F1H2O Team 38.699sec
Brock Cohen (AUS) Comparato F1 40.381sec
Duarte Benavente (POR) F1 Atlantic Team 40.440sec
Alexandre Bourgeot (FRA) Maverick Racing42.111sec