September 28, 2023
GUIDO CAPPELLINI LAUDS TEAM ABU DHABI'S AL-QEMZI AS A POTENTIAL FUTURE FRONT-RUNNER
F1H2O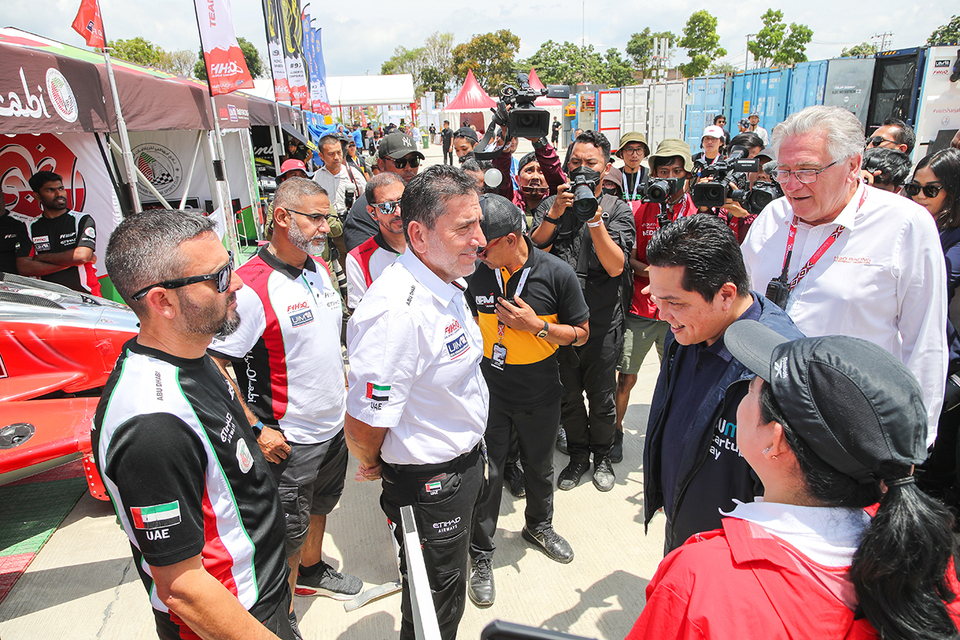 Thursday, September 28: Guido Cappellini is a record-breaking 10-time UIM F1H2O World Champion and is now the team principal at Team Abu Dhabi, the most successful team in recent seasons and the defending champions in the Drivers', Pole Position, Fast Lap and Teams' World Championships.
But this season has not gone according to plan for the team operating out of the Abu Dhabi Marine Sports Club (ADMSC), with Shaun Torrente suffering a yellow card suspension from this weekend's Regione Sardegna Grand Prix of Italy and the team highly likely to miss out on retaining any of the four honours they claimed in 2022.
A shining light in a disappointing season has been the pace and performances of Rashed Al-Qemzi, who replaced Thani Al-Qamzi to finish seventh at the Grand Prix of China in Zhengzhou and now stands in for Torrente in Olbia this weekend. The Emirati claimed a fourth UIM F2 World Championship title with victories in Klaipeda and San Nazarro and a second place in Peso da Regua recently and rounded off his F2 campaign with another win at Vila Velha de Ródão in Portugal last weekend.
As an upbeat Cappellini explains: "Rashed has tried F1H2O before and, after winning his fourth F2 World Championship, maybe he is ready to stay in F1H2O next year. After this race, we will also decide whether he races in Sharjah or not. Every year he has been getting better. But we must remember F1H2O is not F2 and it is more difficult, especially for the psychological and mental stress. For driving, Rashed is one of the best drivers I see in the water. But it is not easy to cope with the big stress to arrive in the top six."
Cappellini is aware that results have not gone according to plan in 2023 but is experienced enough to know that bad luck can and does happen at the top level of international motor sport. "The team is working very hard for a result and, sometimes, it does not arrive with a big mistake. Normally, in my career, I had a big mistake and I lose the World Championship. This is not normal but it is possible to have one season that is not 100%. It is possible for us to win the Teams' Championship and it is important that we work hard for this goal."
The Grand Prix of Abu Dhabi was once a regular fixture in the UIM F1H2O racing calendar. Does Guido think the event could return to the series? "Every time I push hard for this. For me, this is one goal to gain a race again in Abu Dhabi. Maybe some people understand it is very important for all, for F1H2O and for us all."
In the meantime, Al-Qemzi will line up with his experienced team-mate Thani Al-Qamzi to represent Team Abu Dhabi this weekend in Olbia.
With the race format revised for the Sardinian round of the UIM F1H2O World Championship, boats will be divided into two groups (A and B) running with even and odd numbers and each group will carry out a free practice session on Friday after customary registration and technical scrutineering.