September 25, 2023
COULD TEAM SWEDEN'S JONAS ANDERSSON SEAL HIS SECOND WORLD TITLE IN OLBIA?
F1H2O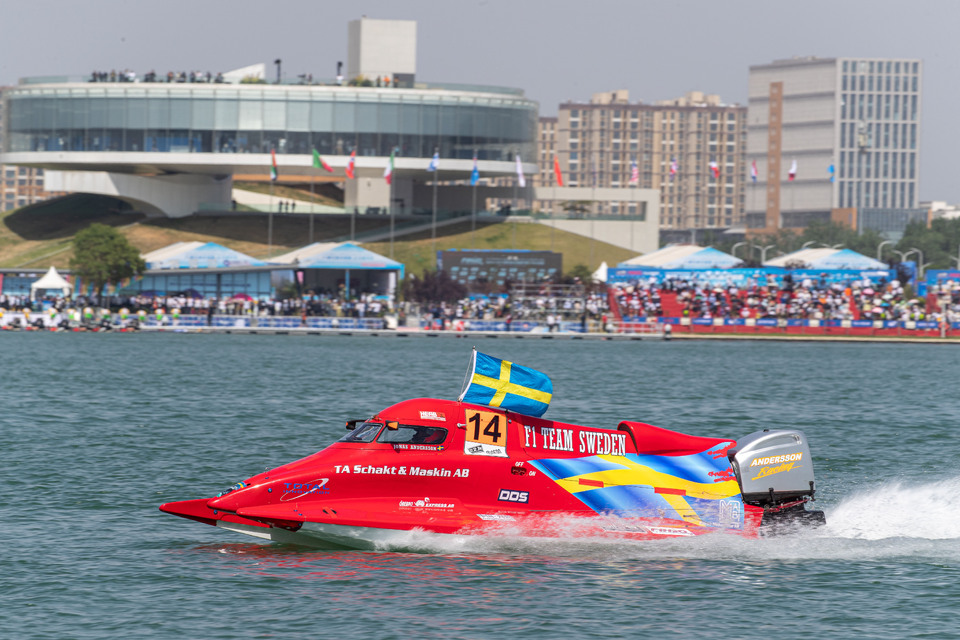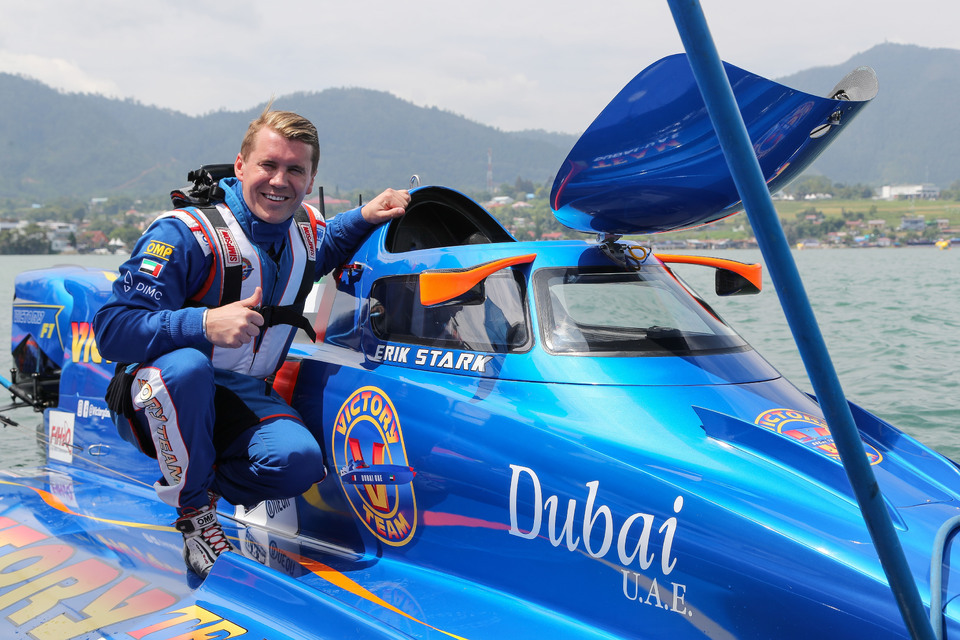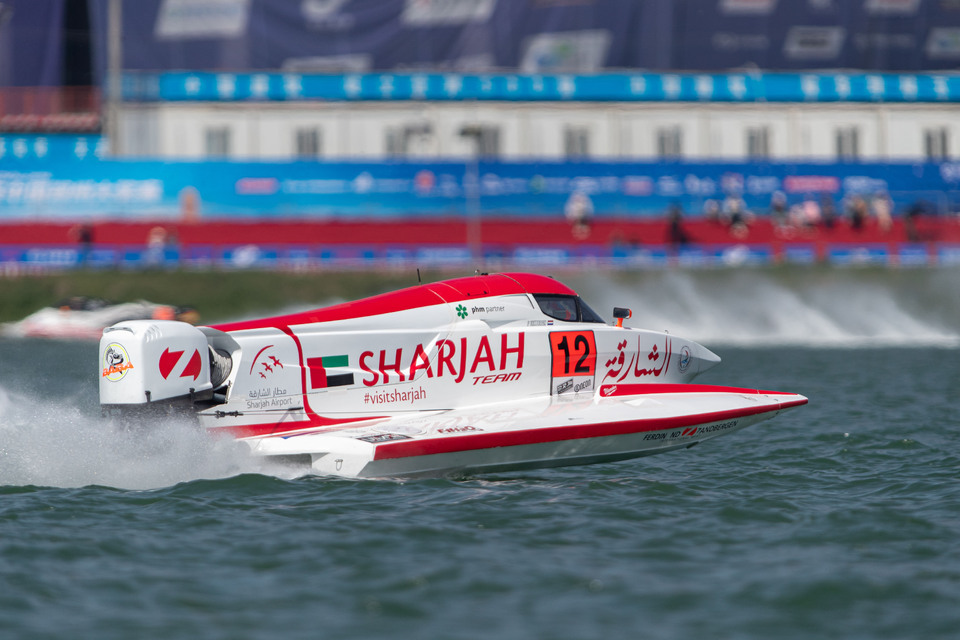 Monday, September 25: Team Sweden's Jonas Andersson arrives in Sardinia for this weekend's Regione Sardegna Grand Prix of Italy in a very strong position in the 2023 UIM F1H2O World Championship.
The veteran extended his lead in the Drivers' Championship to 15 points with an impressive victory at the Grand Prix of France on the River Saône in Mâcon and knows that claiming outright victory in the Olbia-based race on Sunday would give him an unassailable 20-point lead and three wins in this year's World Championship. After missing out in cruel fashion at the final race last year, it would perhaps be a twist of fate if the Swede could seal a second world title before the final round in Sharjah in early December.
Andersson has shown an incredible turn of pace this season and has been embroiled in two sensational BRM Qualifying sessions with arch rival Shaun Torrente of Team Abu Dhabi. Consistent speed and a determination to succeed netted Andersson back-to-back wins in Zhengzhou and France to add to the three points he scored for eighth place in Indonesia back in February.
Fellow countryman Erik Stark is Andersson's nearest challenger. The Victory Team racer began the season strongly with a podium finish on Sumatra's Lake Toba and followed that up with points for fourth and fifth in China and France. He may lack the breakneck qualifying pace of Andersson and will be relying on his fellow Swede slipping up at the Regione Sardegna Grand Prix of Italy if he is to take the title hunt to the final round on Khaled Lagoon. Should Andersson retire in Olbia, however, and Stark prevail, it would set up the prospect of a gripping showdown in Sharjah.
Dutchman Ferdinand Zandbergen has been the Sharjah Team's most consistent performer in 2023 and the winner of his first race in San Nazzaro last year has delivered two podium finishes (third in China and second in France) after failing to finish in Indonesia. The current leader of the F1H2O Fast Lap Trophy trails Stark by a single point and holds third in the Drivers' Championship but is relying on results going his way if he is also to challenge Andersson for the title in the UAE.
Bartek Marszalek of Poland started the season in sensational style with a maiden pole and a first ever Grand Prix win in Indonesia. But the Strømøy Racing F1H2O Team driver has struggled with race performance since then and back-to-back non-finishes at rounds two and three have seen the Pole plummet to fourth in the rankings, a single point clear of Team Abu Dhabi's veteran Thani Al-Qamzi and two ahead of the China CTIC Team's Peter Morin.
Al-Qamzi, for his part, delivered a solid fifth-place finish on Lake Toba and was not available to race in Zhengzhou for personal reasons – his place in the team being taken by cousin Rashed. He claimed the last place on the podium in France and is Team Abu Dhabi's main hope of success in Olbia following the yellow card suspension for team-mate and defending World Champion Shaun Torrente. A non-finish in China proved particularly costly for Morin, who has two fourth-place finishes under his belt on rounds one and three.
With Torrente, who currently lies seventh in the Drivers' Championship, absent from the entry list in Sardinia following his yellow card, two-time World Champion Sami Seliö will be hoping to find some clear water to challenge Andersson for the Grand Prix win. The flying Finn suffered cruel luck in 2022 and looked to have turned the corner with a superb second place in Indonesia at the start of 2023. But boat damage on two occasions and cruel luck have cost the veteran since then and two non-finishes see the winner of 13 Grand Prix and 50 podium finishes down in eighth place in the rankings.
Mad Croc Gillman Racing's Filip Roms and Morin's team-mate Brent Dillard are tied for ninth on 11 points apiece. The Finn scored on the first two races before retiring in France, while Dillard has managed three top 10 finishes in his first season and has set some impressive lap times as the replacement for multiple World Champion Philippe Chiappe in the China CTIC Team.
Marit Strømøy has recently been testing her new DAC, which is fitted with a Mercury Racing 4-stroke 360 Apex engine. The racer from Sandefjord in Norway has been impressed by its performance and is excited to see its potential in a racing environment on its debut in Olbia. After two non-finishes and a sixth place at the opening three rounds, the new project could well breath fresh impetus into the Strømøy Racing F1H2O Team driver's season and lift her from 11th place in the Drivers' Championship.
Roms has been partnered by a returning Grant Trask in the Mad Croc Gillman Racing operation this season and the Australian has settled in well after replacing the outgoing Alec Weckström following the Kopiko Grand Prix of Indonesia. Trask was a non-finisher in China but put four points on the board for seventh place in France to tie with Rashed Al-Qemzi in the Drivers' Championship. Al-Qemzi recently claimed a fourth UIM F2 World Championship title and will replace Torrente in the second Team Abu Dhabi boat in Olbia.
Both Brock Cohen and Alberto Comparato will be hoping to kick-start their season on the Comparato F1 Team's home waters following a disappointing start to the campaign. Both drivers have an eighth place apiece from three starts and know that their pace on the water hasn't been converted into championship points. Getting through the modified qualifying system on the narrow Olbia course will be the first priority and then both racers will be hoping to press on towards the top five on race day.
Emirati Ahmad Al-Fahim joined Stark at the Victory Team before the season started and finished 10th and ninth at races one and three after spectacular flipping out of the action and damaging his boat before the Chinese race in Zhengzhou.
The only other two racers to have scored points to date are Team Sweden's Kalle Viippo and Maverick Racing's Alexandre Bourgeot. Viippo was ninth in China, while the Frenchman rounded off the top 10 at his home race in Mâcon. Both drivers will be hoping to build on that in Olbia.
Three of the field set for the race in Sardinia have yet to score points in this year's World Championship. Portuguese veteran Duarte Benavente leads the F1 Atlantic Team and the veteran of 172 Grand Prix has been out of the points on each occasion this season. Young Ben Jelf joined the line-up towards the end of last year and the Briton has also suffered his fair share of bad luck this year after making the step up from the UIM F2 World Championship. Qualifying amongst the top 16 boats and registering a top 10 finish will be the target for both men.
Frenchman Cédric Deguisne is also pointless after three races and one DNF in his Maverick Racing Moore hull. He dropped out of contention early in the French race that he helped to organise and that followed two finishes outside the top 10 in Indonesia and China.
Despite a frenetic season in the actual races, Torrente holds a two-point lead over Andersson in the UIM F1H2O Pole Position Trophy. Missing the Sardinian event may well hand the advantage to Andersson, however. Morin is a distant third after three rounds.
Team Sweden currently heads the Sharjah Team by three points in the UIM F1H2O Teams' World Championship, as one of these two looks to end Team Abu Dhabi's dominance of a category it has won six times in the last seven seasons of racing (2015, 2017- 2019 and 2021-2022). The team running out of the Abu Dhabi Marine Sports Club (ADMSC) is currently five points adrift of Team Sweden and without Torrente in Sardinia.
With the race format revised for the Sardinian round of the UIM F1H2O World Championship, boats will be divided into two groups (A and B) running with even and odd numbers and each group will carry out a free practice session on Friday after customary registration and technical scrutineering.
There will then be a special 30-minute qualifying session for each group on Saturday morning. Each group will then tackle their own 15-minute Sprint race on Saturday afternoon using a starting order from the times set in the morning's qualifying session. Provided that they have finished the Sprint race and completed at least 70% of the laps, the top seven racers from each group will then qualify for Sunday's Grand Prix. If less than seven boats from either of the groups have not qualified for the main race, additional positions will be available on Sunday.
The final places on the starting pontoon will then be determined on Sunday morning in a 20-minute Repechage session. Potentially, six boats will take to the water and, regardless of their Group, the fastest two will take the last available positions for the Grand Prix. Boats that have already qualified will then be permitted a 30-minute warm-up session on the water.
The Regione Sardegna Grand Prix of Italy is scheduled to fire into life at 15.00hrs with 16 boats on the start pontoon and the leading positions determined by the results and fastest lap times in the Sprint races. This will account for the top 14 boats with the boat that set the fastest lap in the Repechage session qualifying in 15th and the rear of the pontoon going to the driver who finishing second in the Repechage.