July 11, 2016
WHO WILL CONQUER THE ROUGH WATERS OF LAC LEMAN IN 2016?
F1H2O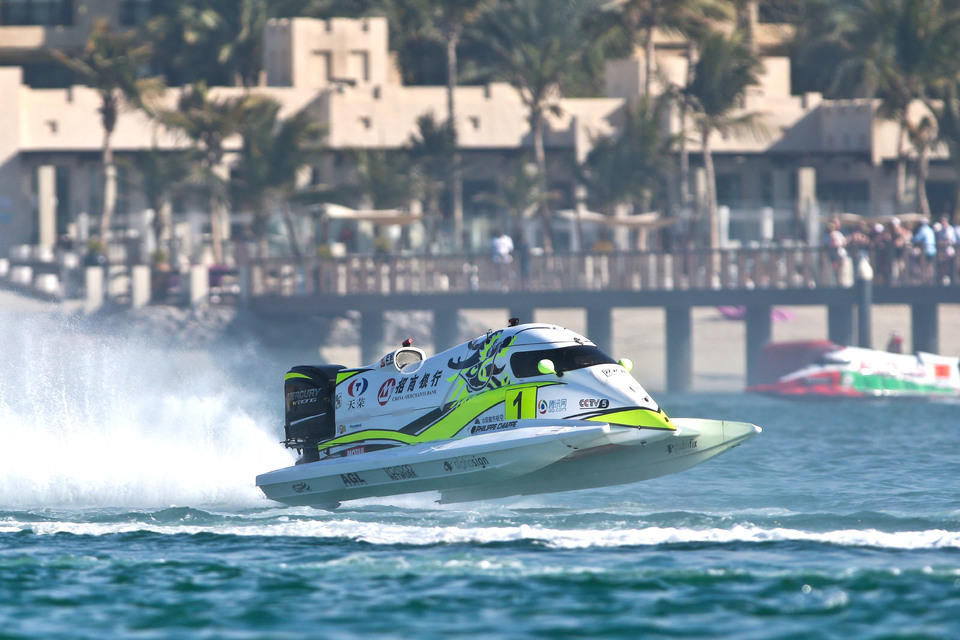 Monday, 11 July, EVIAN (France): A year ago, as the UIM F1H2O World Championship arrived for the first time at the lovely lakeshore resort of Evian on Lac Leman (Lake Geneva) for the Grand Prix of France, it was all about heartbreak and survival.
The heartbreak came when fastest qualifier, race leader and more importantly "native son" Philippe Chiappe of the CTIC F1 China Team, was out front enjoying a comfortable lead and being cheered on by tens-of-thousands of spectators.
A victory would make Chiappe the first Frenchman ever to win at his home Grand Prix.
But just when it looked like it was possible, the roof fell in. Chiappe had a mechanical breakdown on lap 17, and stopped.
Three-time world champion Alex Carella, driving only his second race for his new outfit Team Abu Dhabi thought the victory was his, only to find out at post-race scrutineering that his setup was deemed by UIM officials to be not according to the rules, and was disqualified handing Kuwaiti driver Youssef Al Rubayan his only victory in F1H2O.
Survival?, well, after four days of relative calm conditions, strong west winds developed and played a factor especially in qualifying on the Saturday forcing Q3 to be delayed and run early on 'race-day' morning.
Will it be different this season at the second round of the championship?
It's hard to say, but one thing we know and that is if the Frenchman can once again show his speed and panache as he did at the season's opening round in March at the Grand Prix of Dubai, he could very well be out front and looking for a 're-boot' in search of that first French Grand Prix victory. "It would mean so much to me and the team to win on home waters," said two-time world champion, Chiappe. "We have been focusing on this part of the schedule and we know other teams have been going 'flat out' testing as well.
"It won't be easy, we know we are in a real fight for the title this time around with at least six other drivers having a great shot of being world champion in 2016."
So, who is going to push CTIC F1 China in Evian?
Let's start with Team Abu Dhabi. This multi-national outfit was in northern Italy early in the month in the hopes of getting their three-time world champion Carella ready and better placed after finishing runner-up to Chiappe in Dubai, with engine builder Brendan Power on hand at DAC headquarters in Como, Italy to work with both Carella and Thani Al Qamzi.
Meanwhile, the never ending hard working Victory Team from Dubai, has been preparing and testing non-stop for the past few months. They are hoping to get their number one driver Shaun Torrente back on the podium and in with a shot for a win and become the second American driver ever to win on French waters in the 33 year history of the sport. Torrente's teammate, the ever improving Nadir Bin Hendi has been busy preparing for another top ten or hopefully top-five performance.
Swedish driver Erik Stark, who's been staying busy racing other forms of racing over the spring, is ready for his old teammate Ahmed Al Hameli to hopefully return and at the same time look for better luck with Scott Gillman's Emirates Racing Team.
Team Sweden's Jonas Andersson, who earned a fine fourth place in Dubai, looks like he's got the desire to grab a victory at any moment in his Molgaard in 2016.
Young Chinese driver "Leo" Xiong had a breakthrough performance in Dubai, when he just missed his first Q3 session for a chance at pole position and in the race came home in a fine fifth place for CTIC F1 China and is looking for even better this time around.
Portugal's veteran driver Duarte Benavente looked solid for F1 Atlantic qualifying ninth and finishing a fine sixth place in Dubai as he continues to get more familiar with his French Moore hull.
Two-time world champion Sami Selio had a miserable start to his season struggling in qualifying with a tenth place finish and then not getting more than 20 metres off the start dock before calling it a day in Dubai.
Selio continues to search for his third title and his first in his last six seasons. His first ever F1 victory came in La Rochelle in France in 2007 on his way to his first championship.
Selio's teammate Filip Roms at BABA Racing, earned his first career podium last year in Evian when he finished a quality third place. He's hoping to take that same confidence and carry it over to this season after taking a ninth in Dubai.
Veteran Italian Francesco Cantando, who has raced in France more than any current driver with six starts, will be searching for his first podium on French waters after a fifth place back in 1998.
EMIC Racing's Marit Stromoy will be looking to turn her fortunes around after a disappointing retirement at the season-opener, with teammate Mike Szymura taking charge of his new Dragon boat for the first time.
Maverick Racing will run two boats with Cedric Desguisne joined by fellow Frenchman Beranger Robart.
The 20th Grand Prix of France kicks off the month of July's 'European Season' for the UIM F1H2O World Championship, with 20 drivers from 11 countries looking to tame the potentially rough conditions of Lac Leman on the weekend of the 15-17 July in Evian, France.
Official qualifying for the B.R.M. Pole Position is scheduled for Saturday 16 July at 16:20 local, with the Grand Prix of France taking place on Sunday 17 July at 15:00 local.
Both the B.R.M. Pole Position and the Grand Prix of France can be followed live on the worldwide television feed by going to the tours official website at www.f1h2o.com