December 16, 2022
THANI AL-QAMZI TOPS THE TIMES IN SECOND FREE PRACTICE SESSION
F1H2O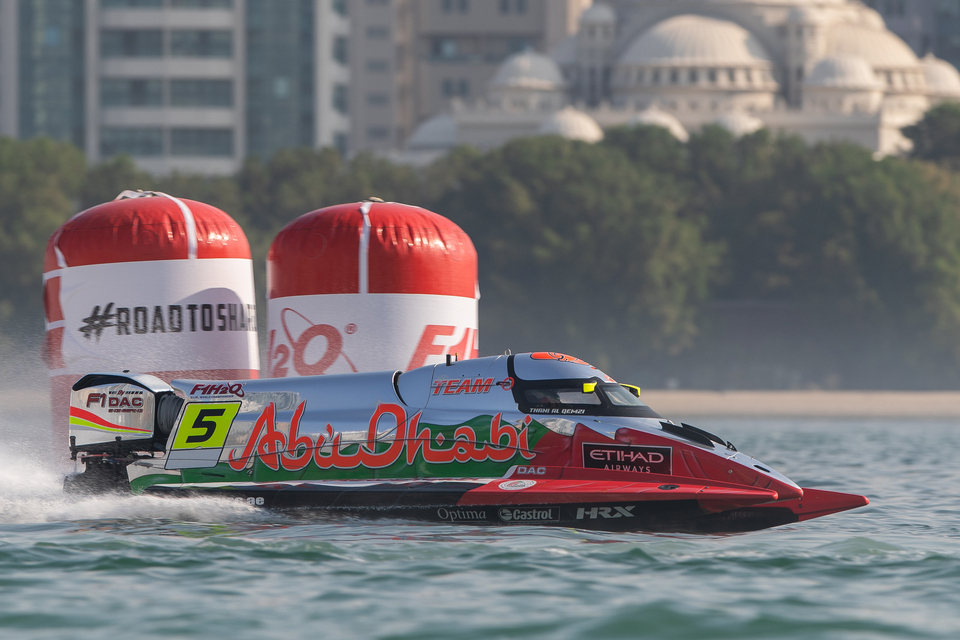 SHARJAH (UAE): Friday, December 16: Thani Al-Qemzi bounced back from his qualifying disappointment to set the fastest time in the second free practice session for the Road to Sharjah Grand Prix of Sharjah on Friday morning.
After qualifying ninth, the Emirati will move up to seventh on the start pontoon after rivals, Alberto Comparato, Bartek Marszalek and Peter Morin, all carried out engine changes and have been demoted to the back of the pack.
Al-Qemzi ran for just seven laps in the session and a best run of 48.76sec was sufficient to edge out pole-sitter Jonas Andersson and Sami Selio, the latter recovering well from the starter coil issues that plagued his qualifying. Selio will now start the race from fifth.
Everyone except for Marit Strømøy took to the water, with the F1 Atlantic Team's Duarte Benavente running for 12 laps and Ben Jelf getting another 30 laps of experience and a best run of 54.93sec after the trim issues that plagued his progress on Thursday. Gillman Racing's Filip Roms suffered technical issues on his opening lap and that put paid to the session.
The Road to Sharjah Grand Prix of Sharjah fires into life at 3pm (UAE time).
2022 Road to Sharjah Grand Prix of Sharjah – free practice (Friday):
1.Thani Al-Qemzi (UAE) Team Abu Dhabi 48.76sec
2.Jonas Andersson (SWE) Team Sweden 48.87sec
3.Sami Selio (FIN) Sharjah Team 48.99sec
4.Phillipe Chiappe (FRA) China CTIC Team 49.67sec
5.Shaun Torrente (USA) Team Abu Dhabi 50.04sec
6.Kalle Viippo (FIN) Team Sweden 50.13sec
7.Ferdinand Zandbergen (NLD) Sharjah Team 50.17sec
8.Alberto Comparato (ITA) Comparato F1 50.31sec
9.Alec Weckström (FIN) Gillman Racing 50.50sec
10.Cédric Deguisne (FRA) Maverick Racing 52.55sec
11.Duarte Benavente (POR) F1 Atlantic Team 53.03sec
12.Peter Morin (FRA) China CTIC Team 53.24sec
13.Alexandre Bourgeot (FRA) Maverick Racing 53.65sec
14.Ben Jelf (GBR) F1 Atlantic Team 54.93se
15.Bartek Marszalek (POL) Strømøy Racing F1H2O Team 1min 38.19sec
16.Paulo Longhi (ITA) Comparato F1 1min 56.26sec
17.Filip Roms (FIN) Gillman Racing 12min 22.88sec
18.Marit Strømøy (NOR) Strømøy Racing F1H2O Team DNS