December 15, 2022
ANDERSSON PIPS TORRENTE AND CHIAPPE TO POLE POSITION IN SHARJAH
F1H2O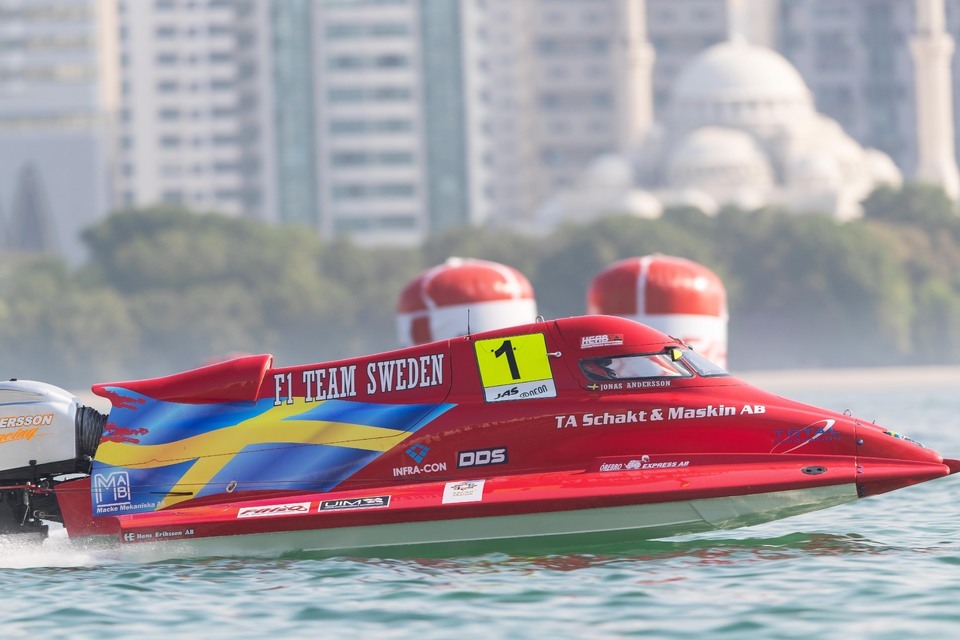 SHARJAH (UAE): Thursday, December 15: Team Sweden's veteran Jonas Andersson claimed a stunning pole position for Friday's Road to Sharjah Grand Prix of Sharjah with a potent lap of 47.64sec on Khaled Lagoon.
The defending World Champion and winner of the Sharjah race in 2019 held off a fierce challenge from Team Abu Dhabi's championship-leading Shaun Torrente and China CTIC Team rival Philippe Chiappe to claim the top spot, as he bids to put in a late charge to try and retain his world title.
Andersson said: "The weather was very strange and the conditions were rough. It was a tough qualifying. I am delighted to claim pole and now we must follow that up with a good performance in the race itself."
Italy's Alberto Comparato finished the session in fourth place after engine issues and young Finn Kalle Viippo and Poland's Bartek Marszalek both made it to the Q3 finale and were classified in fifth and sixth, with Marszalek also suffering engine woes.
Torrente's team-mate and closest championship rival Thani Al-Qemzi failed to qualify for Q3 and will start the race from ninth place. Torrente's second place in qualifying means he moves eight points clear of Al-Qemzi in a quest for a maiden UIM F12H2O Pole Position Trophy.
Six of the 18 boats would be eliminated in the 20-minute Q1 session. Andersson was worried before the start of qualifying by an engine issue and the Swede was stranded on the course at the start of Q1. Chiappe set the early target of 49.71sec a short time before team-mate Peter Morin dug into a left turn, flipped his boat in rougher conditions on the far side of the course and forced a yellow flag situation. The Frenchman had already carded a lap time of 51.89sec and was not injured in the incident.
Racing resumed with Chiappe leading from Selio and Zandbergen, although Thani Al-Qemzi slipped into third with a run of 50.92sec. Comparato then moved into second with a 50.25sec run. With a little over six minutes of the session to run, Chiappe led from Comparato, Ferdinand Zandbergen, Andersson, Torrente and Sami Selio, as Al-Qemzi slipped back to eighth.
The Frenchman held on to with the Q1 session from Comparato and Zandbergen, but rookies Paolo Longhi and Ben Jelf, Cédric Deguisne, Alec Weckström, Duarte Benavente and Filip Roms (engine issue) were eliminated, the latter duo not making the water in time to start the session.
The field was whittled down to just six boats in the 15 minutes of Q2. Chiappe carded the target of 50.97sec and that was soon surpassed by Zandbergen (50.69sec) and Andersson (50.25sec). Torrente then hit the top of the rankings with a flier of 49.67sec and Kalle Viippo stunned his rivals by carding a lap of 50.05sec to move up to second behind the American and leave Selio and Comparato close to elimination.
Andersson (49.48sec) hit the top with less then nine minutes running and Comparato and Marszalek both jumped into contention to pile the pressure on Sami Selio, Zandbergen and a troubled Al-Qemzi. Heading into the last five minutes, Andersson led from Torrente, Comparato, Marszalek, Chiappe and Viippo but Chiappe (49.20sec) stormed to the top spot with two minutes to go and held on to win the session.
Morin was not able to re-join the qualifying session after his Q1 crash and was side lined along with Alexandre Bourgeot, Marit Strømøy, Al-Qemzi, Selio and Zandbergen.
The six boats that had qualified for Q3 took to the water for a final 10-minute session to determine pole position. Andersson and Torrente opened with laps of 48.16sec and 49.05sec to move ahead before the American pitted for a propeller change and Chiappe and Comparato slotted into third and fourth and Marszalek withdrew with engine trouble without setting a time and finished in sixth place.
Andersson extended his advantage with a 47.70sec, Chiappe passed Torrente with a run of 48.07sec and Comparato ground to a halt on the course with his own engine issues and forced a yellow flag situation just at the time that Torrente was set for a new lap.
With weather and water conditions improving and Comparato's boat being moved from the course, racing resumed with just over three minutes remaining and a little time added to the clock. Torrente (47.92sec) moved up to second behind Andersson. The Swede then extended his advantage with a 47.64sec run and held on to claim pole position, with Torrente and Chiappe rounding off the podium places.
2022 Road to Sharjah Grand Prix of Sharjah – qualifying result:
Q3
1. Jonas Andersson (SWE) Team Sweden 47.64sec
2. Shaun Torrente (USA) Team Abu Dhabi 47.92sec
3. Phillipe Chiappe (FRA) China CTIC Team 48.07sec
4. Alberto Comparato (ITA) Comparato F1 49.48sec
5. Kalle Viippo (FIN) Team Sweden 1min 44.01sec
6. Bartek Marszalek (POL) Strømøy Racing F1H2O Team DNS


Q2
7. Sami Selio (FIN) Sharjah Team 50.13sec
8. Ferdinand Zandbergen (NLD) Sharjah Team 50.22sec
9. Thani Al-Qemzi (UAE) Team Abu Dhabi 50.88sec
10. Marit Strømøy (NOR) Strømøy Racing F1H2O Team 51.46sec
11. Alexandre Bourgeot (FRA) Maverick Racing 52.01sec
12. Peter Morin (FRA) China CTIC Team DNS


Q1
13. Alec Weckström (FIN) Gillman Racing 53.75sec
14. Ben Jelf (GBR) F1 Atlantic Team 58.82sec
15. Cédric Deguisne (FRA) Maverick Racing 1min 10.34sec
16. Paulo Longhi (ITA) Comparato F1 1min 26.70sec
17. Duarte Benavente (POR) F1 Atlantic Team DNS
18. Filip Roms (FIN) Gillman Racing DNS
2022 UIM F1H2O Pole Position Trophy – standings after round 5:
1. Shaun Torrente (USA) Team Abu Dhabi 62pts
2. Thani Al-Qemzi (UAE) Team Abu Dhabi 54pts
3. Sami Selio (FIN) Sharjah Team 47pts
3. Jonas Andersson (SWE) Team Sweden 47pts
5. Alberto Comparato (ITA) Comparato F1 36pts
5. Philippe Chiappe (FRA) China CTIC Team 36pts
7. Ferdinand Zandbergen (NLD) Sharjah Team 25pts
8. Alec Weckström (FIN) Gillman Racing 12pts
9. Peter Morin (FRA) China CTIC Team 9pts