June 23, 2016
SZYMURA ENJOYS FIRST EXPERIENCE OF THE JONES DRAGON
F1H2O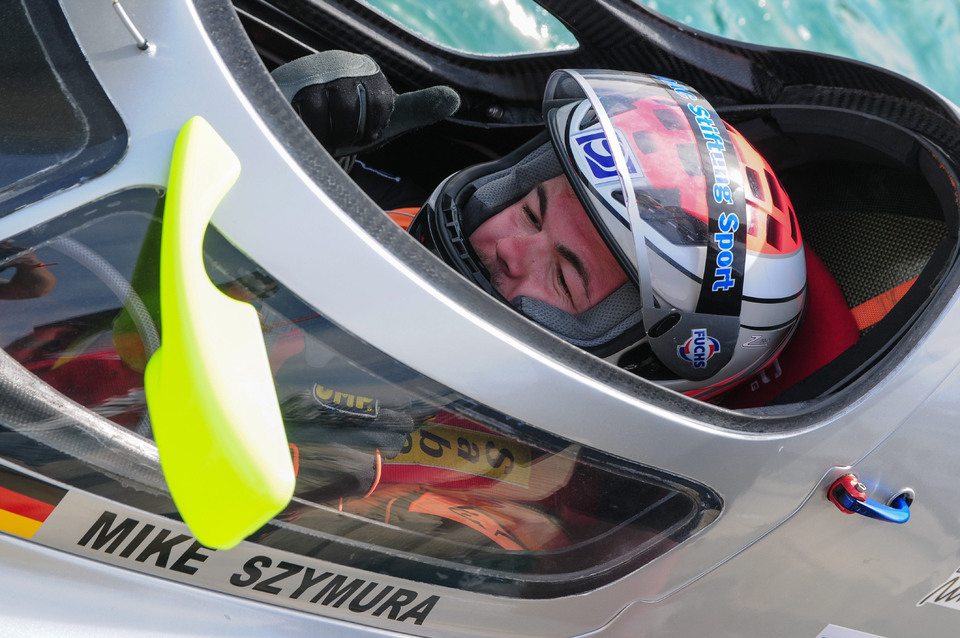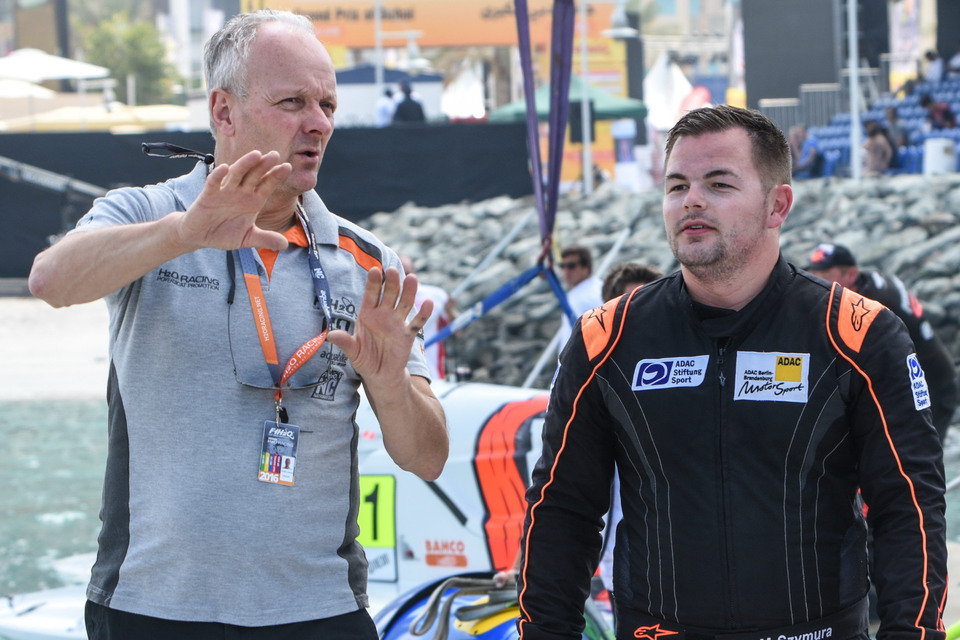 Thursday, 23 June: Team EMIC driver Mike Szymura has given a big 'thumbs up' to the F1 Dragon boat that he will run at the Grand Prix of France in Evian [15-17 July] and for the remainder of the season after his first outing in an intensive shakedown test last weekend.
The 22-year-old Berliner flew in to the UK to link up with Dragon F1 Powerboat owner and multiple F1H2O World Champion, Jonathan Jones, at his facility in Cardigan in Wales, as he takes the next crucial steps in his fledgling F1H2O career. "It was a very successful two days with Jonathan guiding me every step of the way," said Szymura. "The characteristics of the Dragon are quite different to the DAC I ran in Dubai. The handling was very good and I was pleased with the first impressions of the engine. Of course what I need now is more seat time on the water."
Jonathan Jones has taken a keen interest in the German's upgrade from the F4-S Trophy Championship which he won three years on the bounce from 2013 into F1H2O and has been integral in brokering the stages of development to bring together the boat engine package.
Prior to the test in Cardigan, Jones, engine and gearbox technician Paul Kirkby, Martin Ballaschk who will be working on data acquisition and Peter Szymura visited engine guru Alex Hledin's facility in Canada to run through the fundamentals of how it is put together, to become familiar with the modifications he [Hledin] has made and the reasoning behind them. "It was very important for Paul and Peter to get acquainted with the engine and to understand its make-up. The Hledin prepped engine is absolutely crucial to this whole project. We ran it on the dyno several times and the data feedback was impressive."
The shakedown took place on Cardigan's River Teifi with a four-pin circuit laid by Jones who ran the boat, he designed with David Burgess heavily involved with its development, before Szymura got his hands on it. "It was a simple layout with a couple of good length straights up to 500 metres. The conditions were quite changeable and all in all Mike had about three hours out on the water, running about 70 laps," said Jones. "We focussed on some basics, the seat fitting so Mike felt comfortable, and ran with several different propellers. We also tested different oils and were very impressed with the results versus other brands when we used the Fuchs fully synthetic oil.
"Mike is a very talented young driver indeed. I have been keeping an eye on him during his time in F4-S and in Nations Cup and I must say he was bang on from the start as soon as he got in the boat. He has a natural ability and I am sure will develop in time to become a top driver."
The Dragon is now on its way to Berlin with further test planned before Evian.