December 8, 2017
STROMOY TOPS TIME SHEETS AHEAD OF ABU DHABI GP
F1H2O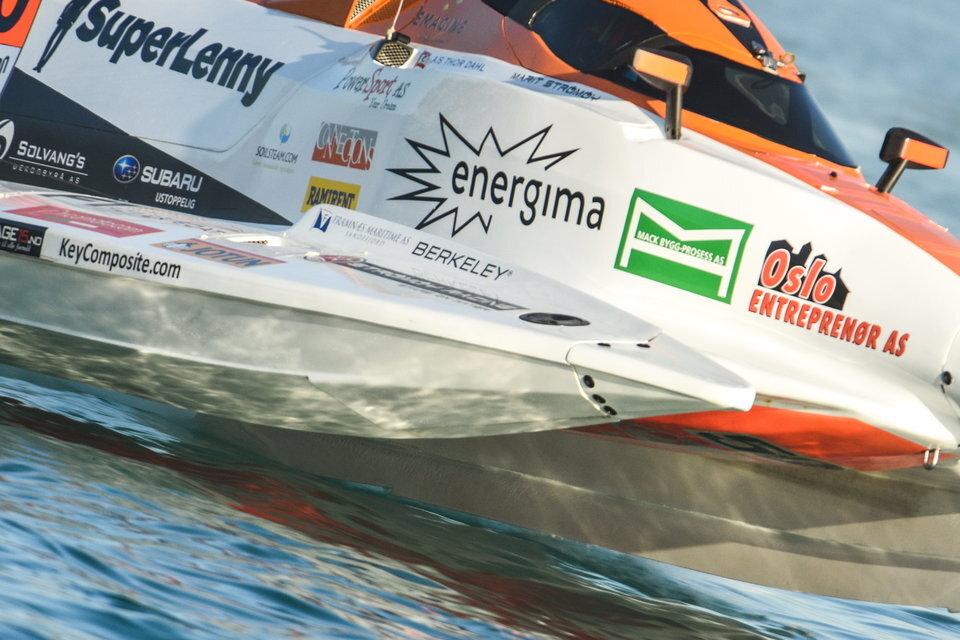 Friday, 8 December: Marit Stromoy followed up her brilliant lap to take P2 in yesterday's BRM Qualifying with the fastest time in this morning's practice session.
Stromoy's 44.61s lap was 0.56 seconds faster than Alex Carella who starts on the outside of Stromoy in P3 in this afternoon's UIM F1H2O Grand Prix of Abu Dhabi, the Italian knowing that a win will seal the championship and give him a fourth world title.
After crashing out of yesterday's qualifying as a result of a coming together with Erik Stark which earned the Team Sweden driver a yellow card, Selio was back out on the water in his spare boat and immediately on the pace posting a time of 45.22s, but will have his work cut out in the race starting from P18. "I am quite surprised how well practice went. We have one or two very minor adjustments to make, but it is never simple to adjust your style of driving when switching into another boat with very different characteristics."
After a frustrating day on the water yesterday, Jonas Andersson fared better putting in a 45.26s lap to put him fifth quickest, with Grant Trask also back on the pace in fifth after resolving some engine issue.
Erik Stark rounded out the top six and knows he faces a tough task this afternoon if he is to keep his title challenge alive and starts behind his two rivals, championship leader Carella and Philippe Chiappe who starts from pole. "It was not really the best qualifying for me yesterday. I don't know what was wrong. I felt the lap was good, we checked the engine it was fine. It was just not enough. Starting from P5 with both Chiappe and Carella in front will not be easy," he said. "I have to get in front of Carella it's as simple as that. I will try to push right from the start. It's a long race and anything can happen."
Blaze Performance driver Bartek Marszalek will be hoping that they can resolve the engine issues that forced him to miss out on practice, with Mike Szymura changing his engine and will start at the back of the field in P19. But there was a less than positive outlook for F1H2O debutant Matt Palfreyman whose race weekend looks to be over after ending his session with a delaminated front left sponson.
Free Practice – top six..
1. M Stromoy (nor) – 44.61s
2. A Carella (ita/uae*) – 44.17s
3. Sami Selio (fin) – 45.22s
4. J Andersson (swe) – 45.26s
5. G Trask (aus) – 45.34s
6. E Stark (swe) – 45.41s
(*international racing super licence)
For full classifications/starting grid: http://f1h2o.com/results/2017/grand-prix-of-abu-dhabi/f1h2o