December 14, 2017
MARSZALEK GOES FOR POLE AFTER GOING TOP IN PRACTICE
F1H2O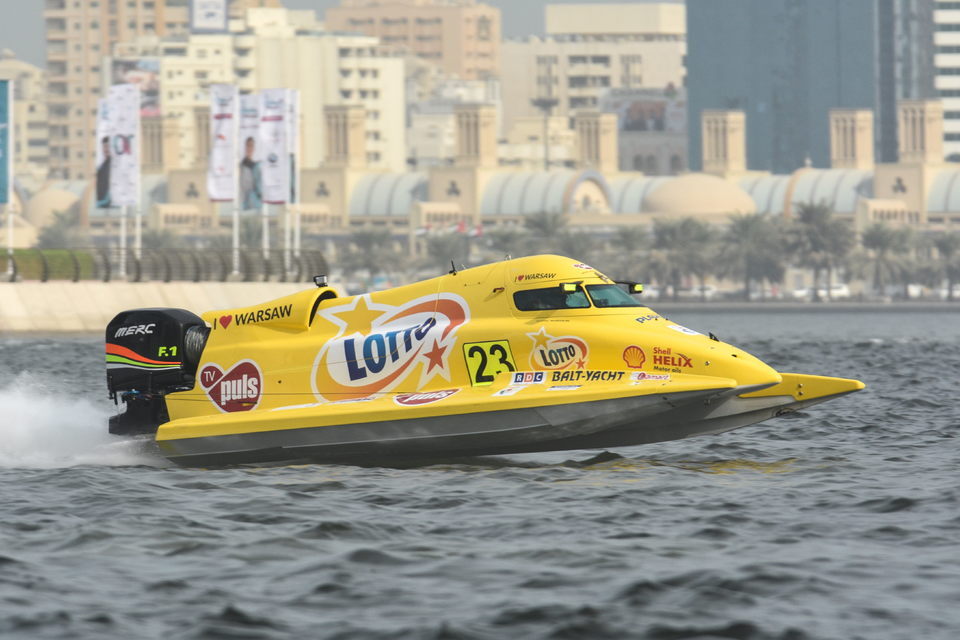 Thursday, 14 December, SHARJAH (UAE): Poland's Bartek Marszalek pulled out a blistering 45.88s lap in this morning's practice session to top the time sheets for the first time in his F1H2O career ahead of this afternoon's BRM Qualifying session and was one of two drivers to go under the 46 second mark.
Sweden's Erik Stark was edged into second spot by just 0.09s with teammate Jonas Andersson in fourth behind title challenger Philippe Chiappe in a session that saw the top nine split by just 0.90s.
Championship leader Alex Carella was the quickest of the Abu Dhabi boats ahead of Rashed Al Qemzi, the pair separated by 0.13s.
Title rivals Carella and Chiappe head into this afternoon's all-important BRM Qualifying looking to gain the advantage for tomorrow's UIM F1H2O Grand Prix of Sharjah.
In the last five years only two drivers who started from pole position went on to win the race, Carella in 2013, Chiappe in 2014!
Free Practice 2:
1. B Marszalek (pol) – 45.88s
2. E Stark (swe) – 45.97s
3. P Chiappe (fra) – 46.28s
4. J Andersson (swe) – 46.33s
5. A Carella (ita/uae*) – 46.41s
6. R Al Qemzi (uae) – 46.54s
7. S Selio (fin) – 46.57s
8. S Torrente (usa/uae*) – 46.65s
9. M Stromoy (nor) – 46.78s
10. T Al Qemzi (uae) – 47.69s
(*international racing super licence)
For full classifications: http://f1h2o.com/results/2017/grand-prix-of-sharjah/f1h2o
[BRM Official Qualifying at 1530hrs [local]/1130hrs [UCT] on Thursday 14 December and the UIM F1H2O Grand Prix of Sharjah at 1600hrs [local]/1200hrs [UCT] on Friday 15 December will be streamed live on f1h2o.com]