December 13, 2017
CHIAPPE AND STROMOY SET IDENTICAL TIMES IN PRACTICE
F1H2O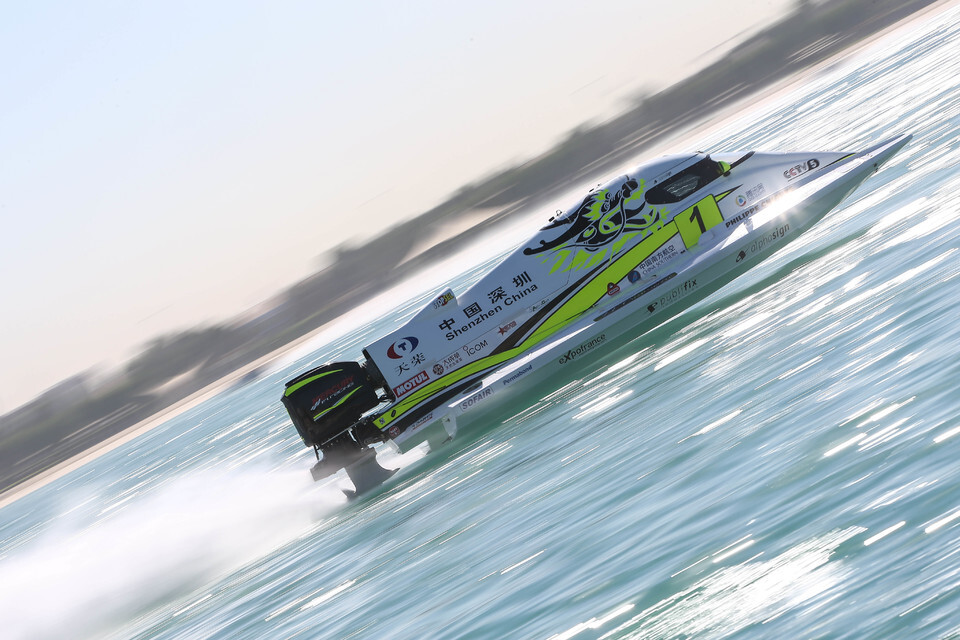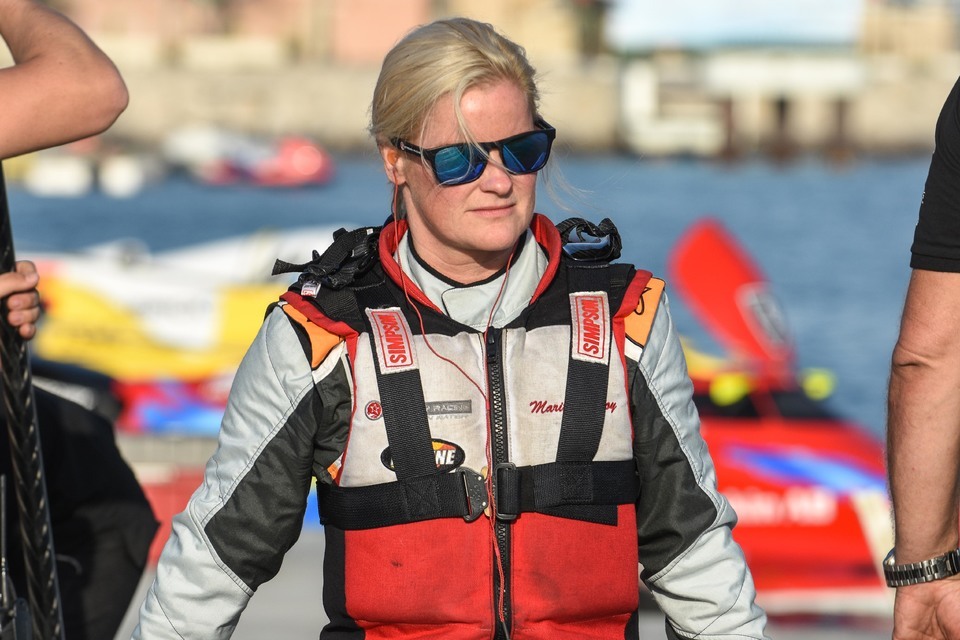 Wednesday, 13 December, SHARJAH (UAE): Title rivals Alex Carella and Philippe Chiappe launched their final push for the coveted top spot in the UIM F1H2O World Championship in this afternoon's practice session on Khalid Lagoon, with Chiappe claiming the psychological advantage posting a 47.70s lap to top the time sheets, Carella 0.81s off the pace in seventh.
Marit Stromoy continued her impressive run of form but left it late into the 90 minute session before laying down her best time and moving up from outside the top ten to match Chiappe's 47.70, with Abu Dhabi's Rashed Al Qemzi grabbing the in-house bragging rights with his best ever practice performance going third quickest with a 48.21s lap.
This afternoon's session saw 16 drivers out on the water with Sami Selio opting to start after his two spectacular crashes in Abu Dhabi last week and went a credible ninth quickest despite losing his cowling and returning to the pits. "Well the boats still the right way up and almost all the parts we put in the water came back," said an upbeat Selio. "We were in a rush and these things happen but no big drama. The boat ran well but I didn't really push in these tricky conditions which is not normal for Sharjah. The eye is fine but I will probably see the nightmare when and if Q2 shows up tomorrow!"
After missing out on his first GP start last week Sweden's Erik Edin was back on the water in his repaired DAC and clocked up 40 laps, his best a 50.55 to put him in 13th, but there was frustration for both Matt Palfreyman and Grant Trask, sitting out the session due to problems with radios.
Maverick F1 Racing's Cedric Deguisne had expected to miss out this week after being handed two yellow cards for his involvement in the incident with Selio at the start of the Grand Prix of Abu Dhabi but has received a reprieve, with the one card withdrawn by officials and despite not going out today will run in qualifying.
Peter Morin continues to improve and up his pace going fourth fastest ahead Shaun Torrente and Erik Stark.
Looking ahead, Abu Dhabi's three-time champion Carella holds an 11 point advantage and looks to be odds on favourite to regain the title he last held in 2013 before ceding it to defending and three-time champion Chiappe, with both looking to emulate Scott Gillman's haul of four titles and CTIC F1 Shenzhen China's Chiappe bidding to match Guido Cappellini by winning four on the bounce which the ten-time champion achieved from 1993 to 1996.
The two title protagonists sat side by side at this morning's press conference which was hosted by His Excellency Khalid Al-Midfa, Sharjah Commerce and Tourism Development Authority and Hassan Al-Zaabi, Sharjah International Marine Sports Club, with Carella saying, "It is going to be a fantastic battle with Philippe. Looking at the points is a dangerous strategy. I just have to go out there and try and win the race. It will be a big fight until Friday. We need to be very concentrated."
Sharjah has hosted the final and often title deciding Grand Prix of the season since 2004 and during its 18 year association with the UIM F1H2O World Championship it has proved to be a notoriously hard race outcome to predict, with six different winners in the last six years.
Free Practice:
1. P Chiappe (fra) – 47.70s
2. M Stromoy (nor) – 47.70s
3. R Al Qemzi (uae) – 48.21s
4. P Morin (fra) – 48.28s
5. S Torrente (usa/uae*) – 48.33s
6. E Stark (swe) – 48.42s
7. A Carella (ita/uae*) – 48.51s
8. D Benavente (por) – 49.39s
9. S Selio (fin) – 49.58s
10. J Andersson (swe) – 49.70s
(*international racing super licence)
For full classifications: http://f1h2o.com/results/2017/grand-prix-of-sharjah/f1h2o
[BRM Official Qualifying at 1530hrs [local]/1130hrs [UCT] on Thursday 14 December and the UIM F1H2O Grand Prix of Sharjah at 1600hrs [local]/1200hrs [UCT] on Friday 15 December will be streamed live on f1h2o.com]