September 11, 2021
ITALY HAS A NEW HERO - SENSATIONAL COMPARATO ON POLE FOR SUNDAY'S UIM F1H2O GRAND PRIX OF EUROPE
F1H2O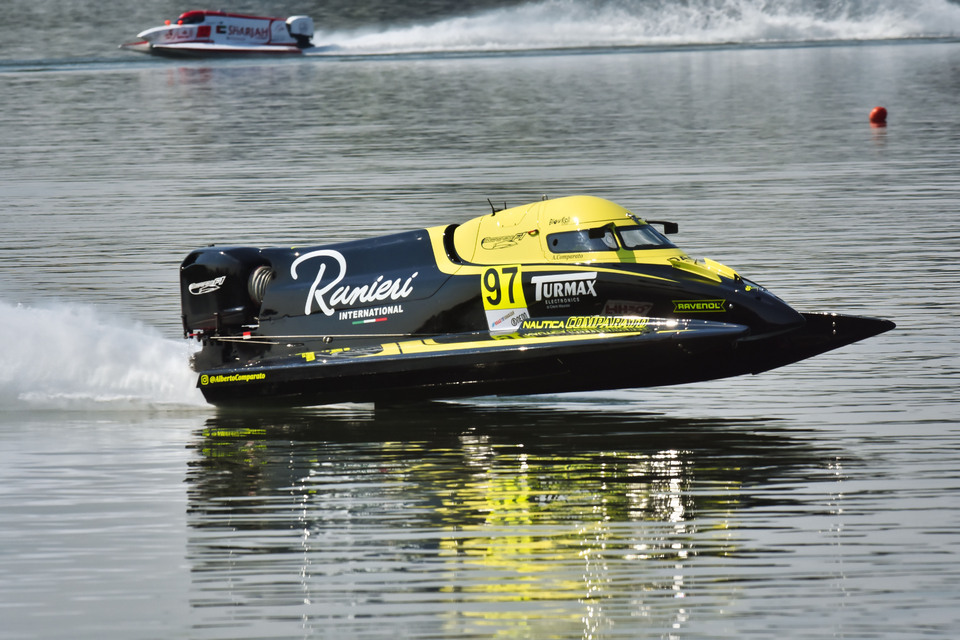 Saturday, 12 September, San Nazzaro (Italy): Italy's Alberto Comparato produced a simply sensational final lap in today's Rebellion Qualifying top six shootout blistering 41.97s lap on his second run around the 1.971 m Po River circuit in Q3 and will start the UIM F1H2O Grand Prix of Europe from his first career pole position.
Comparato made a winning start in his first competitive outing with his own team "I cannot tell you how much I am happy for this pole in my Country – says the 24 years old driver from Chioggia - and I want to thank my dad, (former driver Fabio Comparato) as we work so much together and 70% of the result is because of him".
Abu Dhabi Team Thani Al Qemzi was second quickest with a best time of 42.10s with Sharjah Team's Sami Selio posting a 42.39s lap and completing the pole position podium.
Joining the top six shoot were Al Qemzi Team mate and defending champion Shaun Torrente in fourth position ahead of Norway's Marit Stromoy and China Team Philippe Chiappe respectively fifth and sixth.
Chiappe's team mate Peter Morin narrowly missed out on making it into the top-six shootout going seventh fastest ahead of Gillman Racing's new entry Alec Weckstrom , with Jonas Andersson, quickest in Q1, ending in Q3 the chances of challenging from a top-six slot on ninth position.
Today's qualifying result sets up a mouth-watering prospect for tomorrow's Grand Prix of Europe which will start at 15.00.
REBELLION OFFICIAL QUALIFYING – top six shootout.
1. Alberto Comparato ( ita) – 41.97s
2. Thani Al Qemzi (uae) – 42.10s
3. Sami Selio ( fin) – 42.39s
4. Shaun Torrente (usa/*uae) – 42.48s
5. Marit Stromoy ( nor) – 42.64
6. Philippe Chiappe ( fra) – 42.83 s
(*international racing licence)