July 17, 2016
CARELLA SNATCHES POLE FROM TORRENTE IN FINAL SECONDS OF BRM QUALIFYING
F1H2O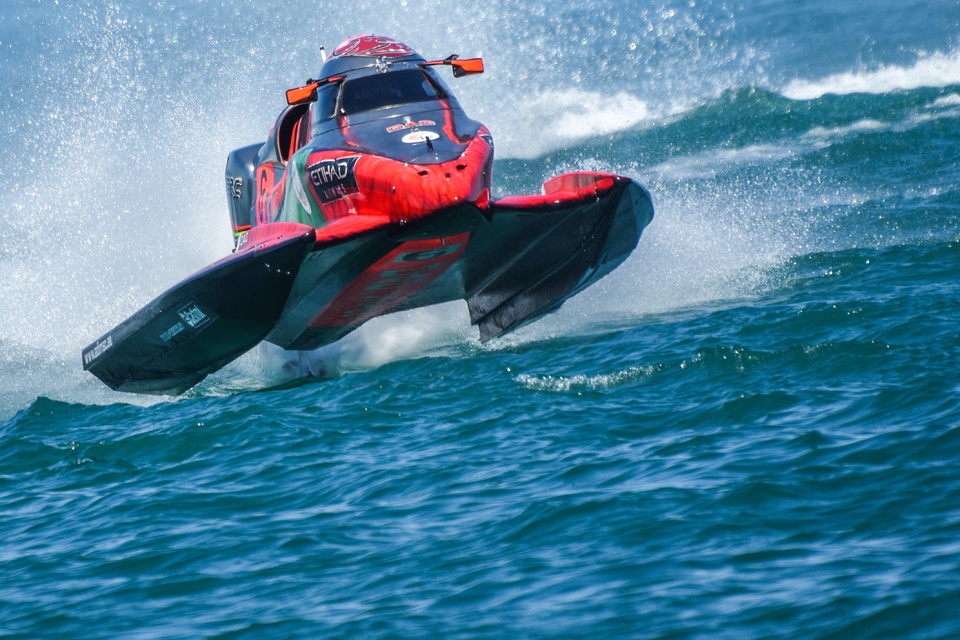 Sunday, 17 July, EVIAN (France): Team Abu Dhabi's Alex Carella produced a sensational final lap in this morning's BRM Qualifying to snatch pole position from Shaun Torrente in the final seconds of a thrilling session in Evian.
Going into his final flying lap three-time world champion Carella was 0.2 seconds off provisional pole-sitter Torrente but turned it round to claim his 12th pole position with a time of 44.13s to snatch the pole by .43s.
Defending world champion Philippe Chiappe was unable to repeat his pole of 2015 having to settle for third quickest with 44.97s.
There were few surprises in the opening 20 minute Q1 with Francesco Cantando the most notable name to miss the cut, squeezed out into 13th spot by Marit Stromoy in the closing seconds.
Sami Selio delivered a strong showing in sixth spot in his new BABA but disappointingly failed to start Q2. There was also frustration for CTIC F1 China's Xiong Ziwei, posting a very credible eighth quickest only to barrel role with six minutes of the session remaining, bringing out the yellow flag, and ending his hopes starting Q2.
Q2 saw a see saw battle between the eventual top three but it was Sweden's Jonas Andersson who topped the time sheets for the first ten minutes.
With 15 minutes remaining Torrente moved up into provisional pole, Carella in second with Chiappe languishing in sixth place before he suddenly catapulted himself into P1. Minutes later it was Carella who took over top spot with Ahmed Al Hameli joining the fight and moving into third ahead of Chiappe.
In the closing stages Torrente came again to claim provisional pole ahead of Carella and Chiappe and looked to have it when the Team Abu Driver stole it away from him as the clock went to zero.
The Grand Prix of France starts at 15.00hrs [local].
PREVIOUS STORY