July 17, 2016
CARELLA RULES THE WAVES IN EVIAN TO TAKE VICTORY
F1H2O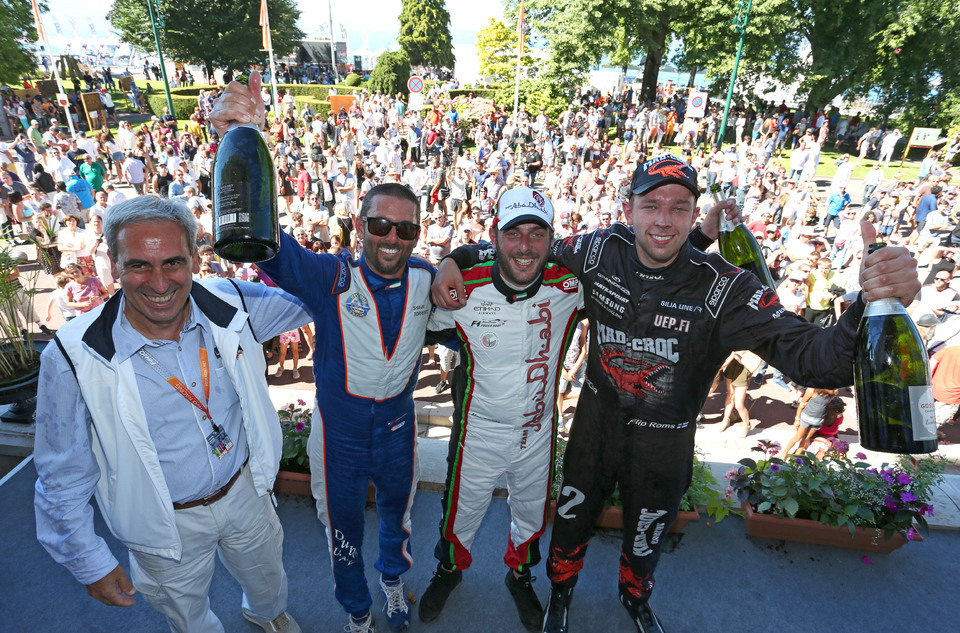 Sunday, 17 July, EVIAN (France): Team Abu Dhabi's Alex Carella rounded out a perfect day on Lac Leman with a superbly hard fought victory in the 20th Grand Prix of France in Evian.
Earlier in the day the Italian snatched a last lap win in qualifying from Victory Team rival Shaun Torrente to clinch the all-important pole position and took advantage to run out the winner and claim his 12th career win and move to the top of the championship standings.
The race hinged on a mistake by Torrente who chased Carella from the start and passed him on lap 9, but the driver from Florida then hit and took out a turn buoy and was handed a drive through penalty that dropped him to fifth and gave control of the race back to Carella.
From that point Carella had to fend off defending champion Philippe Chiappe but his race came to a grinding halt on lap 22, with Carella now out on his own and going on to complete the 48 laps and take the win from BABA Racing's Filip Roms and a despondent Torrente recovering well to take third.
Rom's second place was arguably the drive of the afternoon as the 22-year-old from Espoo in Finland held of the hard charging Torrente for over 15 laps. Lap-by-lap Torrente closed in and with the gap down to .75s Roms drove brilliantly and held his nerve to take his second podium in a row in Evian.
For many the 48 laps proved too much as it turned into a race of attrition with Erik Stark, Jonas Andersson, Thani Al Qamzi and Sami Selio amongst those joining Chiappe on the retirees list.
With the numbers dwindling it was French duo Cedric Deguisne and Christophe Larigot who took full advantage to finish fourth and fifth with Marit Stromoy completing the top six.
Ahmed Al Hameli marked his return to the championship with a strong showing going fifth quickest in qualifying and finishing in eighth behind Duarte Benavente and ahead of Nadir Bin Hendi, with EMIC Racing's Mike Szymura earning his first world championship point in tenth in his first outing in his Dragon boat.