November 28, 2021
ANDERSSON WINS RACE CAPTURES THE WORLD TITLE!
F1H2O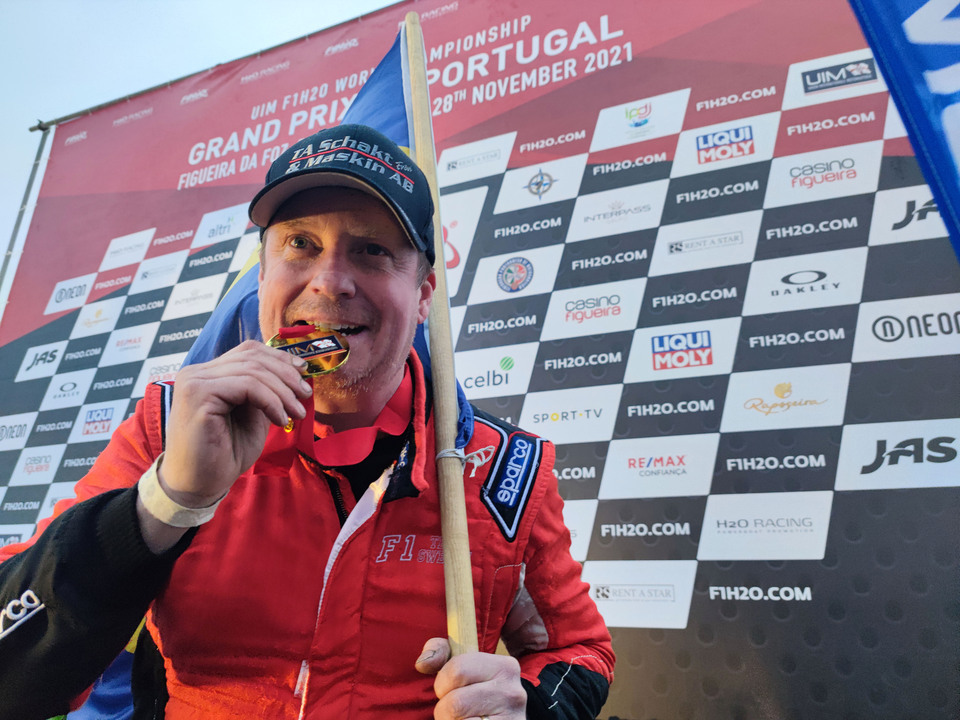 Sunday: 28 November FIGUEIRA DA FOZ, Portugal: Swedish driver Jonas Andersson saved his best for last winning back to back Grand Prix's in Portugal in 72 hours to come from behind and win the 2021 U.I.M. F1 H2O World Championship for powerboating in Figueira Da Foz, Portugal on Sunday.
The 47 year-old driver from Frovi, Sweden dominated both days winning from pole position and lead all 80 laps of the pair of races to finish with 40 championship points, one better than Team Abu Dhabi driver Thani Al Qemzi who finished third in the race holding off his teammate and two-time World Champion Shaun Torrente as the driver from Florida came from the back of the pack in 14th position to take fifth at days end.
"It's been a frustrating two years waiting for redemption after losing the championship title in 2019 tied in points to Shaun," stated Jonas. "We worked hard for this sweep this week and I want to thank all my crew for their help in making me a World Champion for the first time in my career in F1."
Jonas had to battle thru a re-start after Marit Stromoy crashed on the front straightaway on the 29th lap holding off two-time World Champion Sami Selio with sensational rookie driver Alec Weckstrom of Gillman Racing back in third.
On the final re-start Jonas powered away in first while four other drivers were charging into turn four with little space separating them. Weckstrom and Selio collided and Sami coming out the worst of it, sinking his boat and ending his dream of a third world title at the same time.
With all the debris in the water, the rescue team worked as hard as they could getting the course cleared for a re-start but time and the 40 laps ran out and Andersson was declared the winner of the race and World Champion for the first time in his 15 year F1 career.
It was heartbreaking for both Team Abu Dhabi drivers who were hoping to have one more chance to get in front with both holding chances to win their own world titles, but it wasn't to be and after 102 races Jonas Andersson is the new U.I.M. F1 H2O World Champion.
Stars of the day were Alec Weckstrom winning the Rookie-of-the-Year honors with his runner-up trophy in only his third event and another rookie, Kalle Viippo, also from Finland came up from 15th to finish a fine sixth.
Peter Morin of the CTIC Shenzhen China Team finished the season with his second fourth place of the year and third top-10 of 2021. while Polish driver Bartek Marszalek starting 14th and pushed his way up to seventh and into the points for the second of three races this season.
Portugal's native son Duarte Benavente entertained the crowd by starting and finishing in eighth picking up more championship points along the way.
The 37th U.I.M. F1 H2O World Championship season has now come to a close for 2021 with a new World Champion and four new talented drivers making the future of the sport looking bright for the anticipated 2022 campaign.
Congratulations to Sweden's Jonas Andersson, the newest World Champion on the U.I.M. F1 H2O World Championship tour.