November 28, 2021
ANDERSSON ROLLS ON WITH 2ND STRAIGHT POLE IN PORTUGAL
F1H2O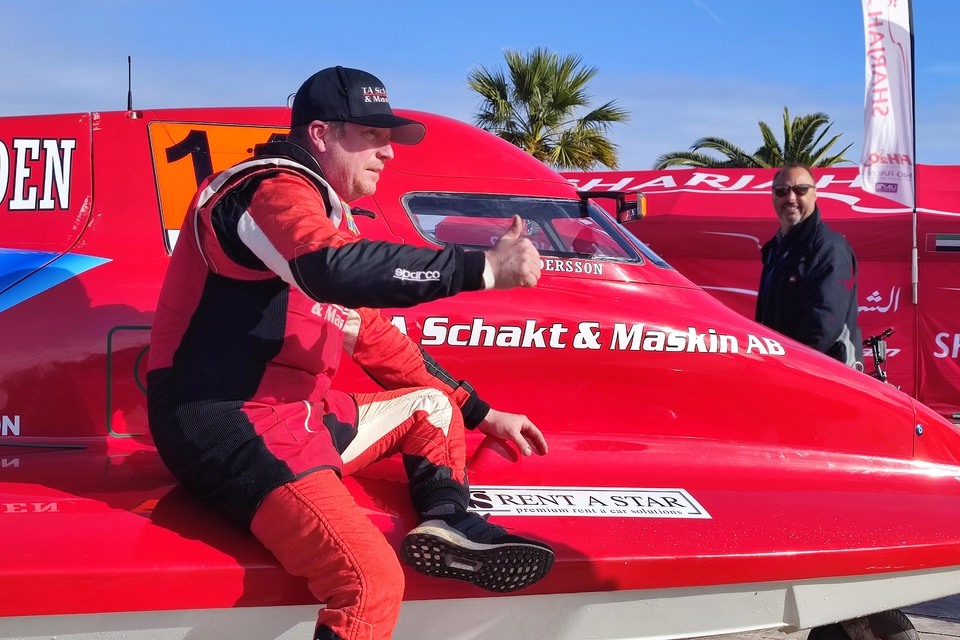 Sunday: 28 November FIGUEIRA DA FOZ, Portugal: For only the second time in his 15 year UIM F1H20 World Championship tour Swedish driver Jonas Andersson has captured back to back pole positions and will lead the field of 15 drivers from 10 various countries for today's Grand Prix of Portugal at 15:30 UTC on the Mondego River.
The lead driver of Team Sweden currently sits third in the world championship fight with 30 points going into the final round, getting a great break as well, when points leader Shaun Torrente had his engine break three laps in the "Q2" session and will be forced to start at the end of the field as he desperately tries to move forward at the start of the 40 lap Grand Prix.
For Andersson, he is on a hot streak that dates back to December of 2019 when he had pole at the Grand Prix of Sharjah going on to win the race and finishing second to Torrente in the championship at the end of the day despite both finishing level in points.
"I feel great with this set-up," stated Jonas. "We worked hard all night on Friday building two engines and now we in a good place but will need a little luck at the same time to win the championship."
Andersson came out fifth in the "Q3" Shootout qualifying session setting the water on fire and being one of only two drivers to run a sub 39 second lap with a 38.680 lap and a speed of 164.74 kph.
Starting second will be two time World Champion Sami Selio of the Sharjah Team looking for his 26th pole of his career only coming up short by just over a tenth of a second with a 38.808 and still with a slim hope of earning his third world title trailing the leader Torrente by 18 points with 20 points up for grabs at days end.
Starting third will be Frenchman Peter Morin of the CTIC Shenzen China Team coming out first and doing a 39.335 second lap around the 1.77 km race circuit. He is fourth in the championship 17 points behind the American.
Fourth off the start pontoon will be rookie Alec Weckstrom of Gillman Racing as the young Finnish driver earned his first spot in the "shootout" with a speed of 161.96 kph and a time of 39.343.
Young Italian Alberto Comparato, who earned the season's first pole at the Grand Prix of Europe in Italy in mid-September, will start fifth after posting a 39.552 time. He is outside looking in with no chance this year of winning a world title, but has many fans knowing he should have a great future in the sport.
Team Abu Dhabi driver Thani Al Qemzi, who is just three points in the championship behind his teammate Torrente, has a great chance to become the 15th different driver to win a world title today, if he can finish up towards the front and have his teammate stay behind him by more than three. Thani's time was a 39.633 and a speed of 160.78 kph.
So, with the points leader Torrente in trouble and starting from the back the whole picture could turn about with six drivers from six different countries still hoping for gold and a world title today.