October 2, 2016
AL HAMELI STEALS AWAY POLE POSITION WITH A GREAT TWO LAP RUN!
F1H2O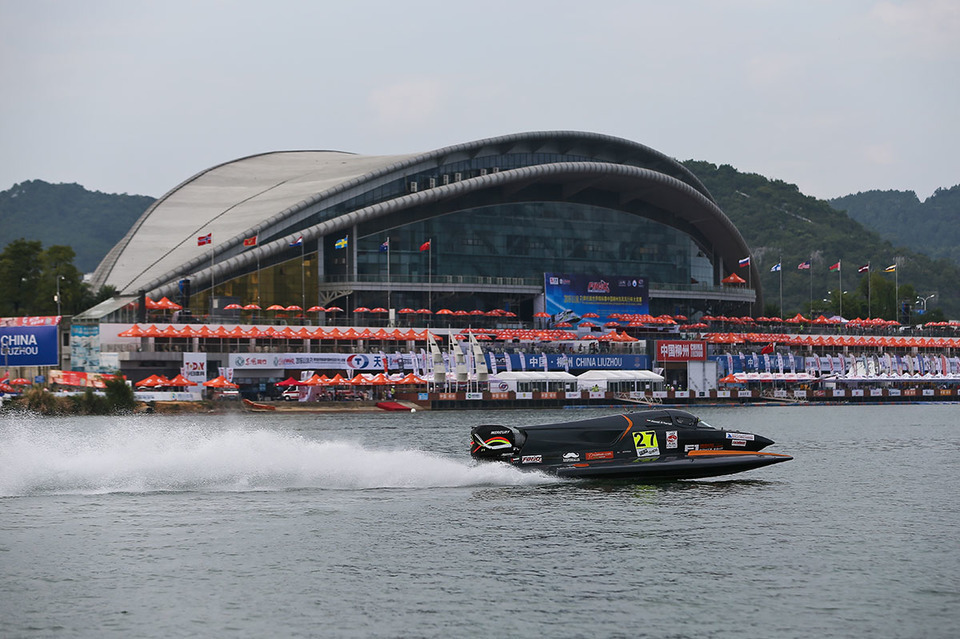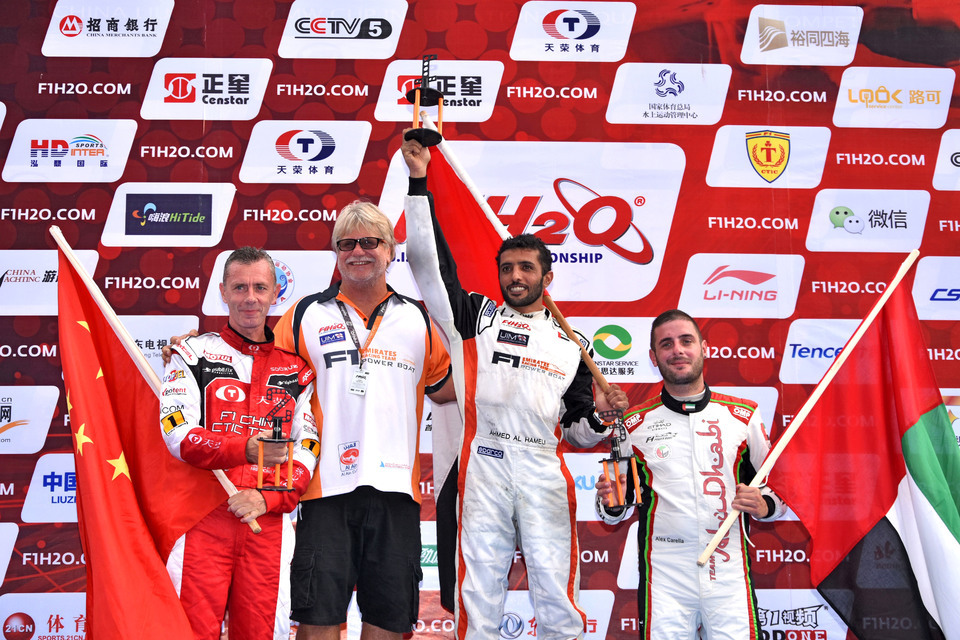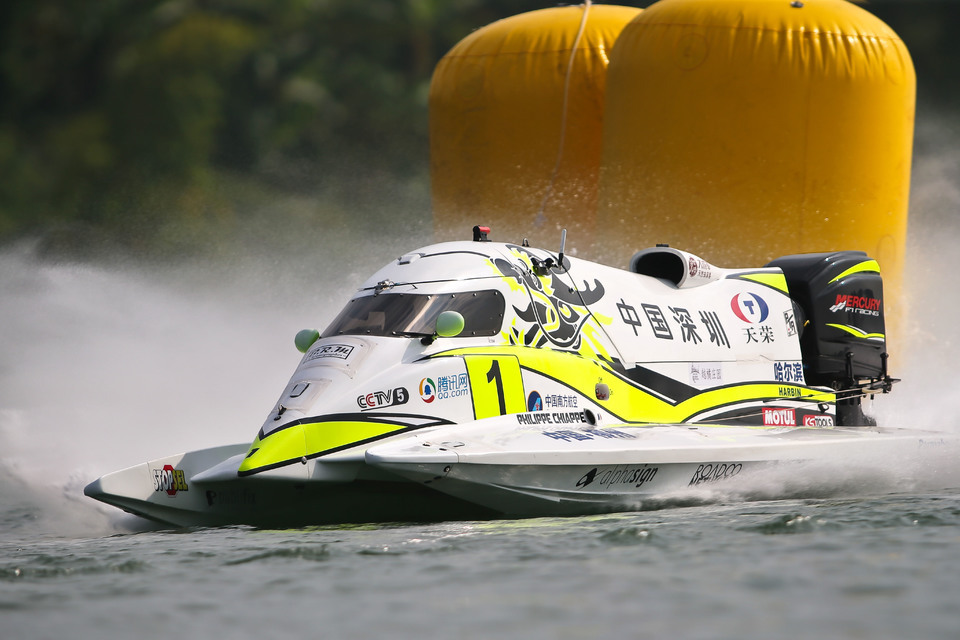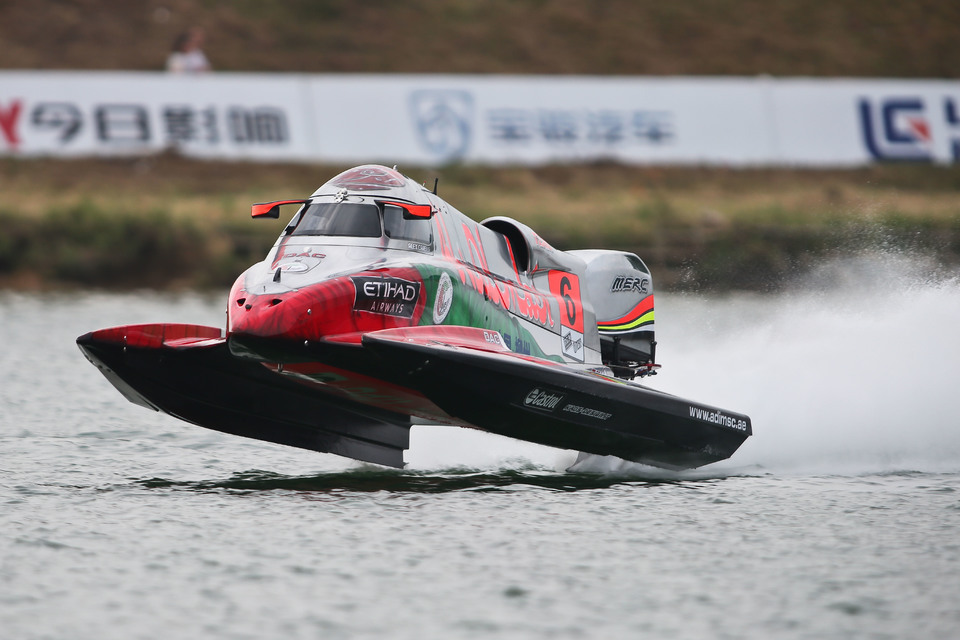 Sunday, 2 October, LIUZHOU (China) Team Emirates driver Ahmed Al Hameli proved why concentration and running both laps is the key in the final Q3 two-lap "shootout" for the B.R.M. pole position on the UIM F1H2O World Championship tour. It can earn you your first pole in five years!
Both he and CTIC F1 Shenzhen China Team rival Philippe Chiappe ran identical 46.05 second laps around the six-turn 2.02 kilometer (1.26 mile) race circuit as they were ultimately tied dead level for the honor of earning pole position.
However, last years' pole sitter Chiappe did a 46.52 time on his second lap which turned out to be .15 of a second slower than Al Hameli's lap of a 46.37 giving the 38-year-old driver from Abu Dhabi his eighth career pole and his first since Sharjah in 2011. "It's a great day for everyone and for me it's been almost five years since I'm starting number one and it sure feels good," said Ahmed.
"It was nice to have my teammate (Erik Stark) joining me in the shootout and starting fifth as well. I'd love to see both of us on the podium tomorrow afternoon this would make up for some of the frustration we've had for the first half of the season in terms of good results."
Meanwhile, two-time back-to-back World Champion Chiappe, will have an excellent shot at winning his second straight Grand Prix in Liuzhou knowing that his chief rival in American driver Shaun Torrente of the Victory Team could only manage a sixth with a 46.81 second lap and sitting just seven points back of the driver from Rouen, France. "I don't know what more we could have done in qualifying," said Philippe. "Congratulations to Ahmed and we will push him as hard as we can to win again here in Liuzhou tomorrow."
While the Emirates Team stole the show on the Liu River, four-time race winner Alex Carella of Team Abu Dhabi missed his 13th career pole and second of the season, by one/one-hundredth of a second, with a 46.06 second lap and will start third tomorrow at 15:00 local time.
Starting fourth with be another two-time world champion as Sami Selio of the Mad Croc Baba Racing Team who was just a hair slow while being .12 of a second off Al Hameli as he chased his 26th career pole position.
Young Swede Erik Stark, who was the fastest of the Q2 session, came out last and was again disappointed with a 46.34 second lap being .29 of second slower starting fifth and just ahead of the Florida driver Torrente.
Just missing the Q3 shootout was Marit Stromoy of the EMIC Team in seventh with a 47.33 second lap and a half-second faster than two-time China race winner Thani Al Qamzi of the Abu Dhabi Team who managed a 47.84 and in eighth position on the start dock.
Rounding out the top ten was Portugal's Duarte Benavente of the F1 Atlantic Team with a 47.89 and local driver "Leo" Xiong of the CTIC China Team and a 48.45 second lap.
The fifth round of the 2016 UIM F1 H2O World Championship and the Grand Prix of Liuzhou will take place on Monday at 15:00 local, 07:00 UTC and 03:00 EDT on the East Coast of North America.
The 21st year of racing in China and the Grand Prix of Liuzhou can be followed and viewed live by going to the tours official website at f1h2o.com with the race being streamed live through the tours worldwide television feed.