September 17, 2018
TEAM ABU DHABI'S ERIK STARK LOOKING TO EXTEND CHAMPIONSHIP LEAD AND CHASING GRAND PRIX WIN HAT-TRICK
F1H2O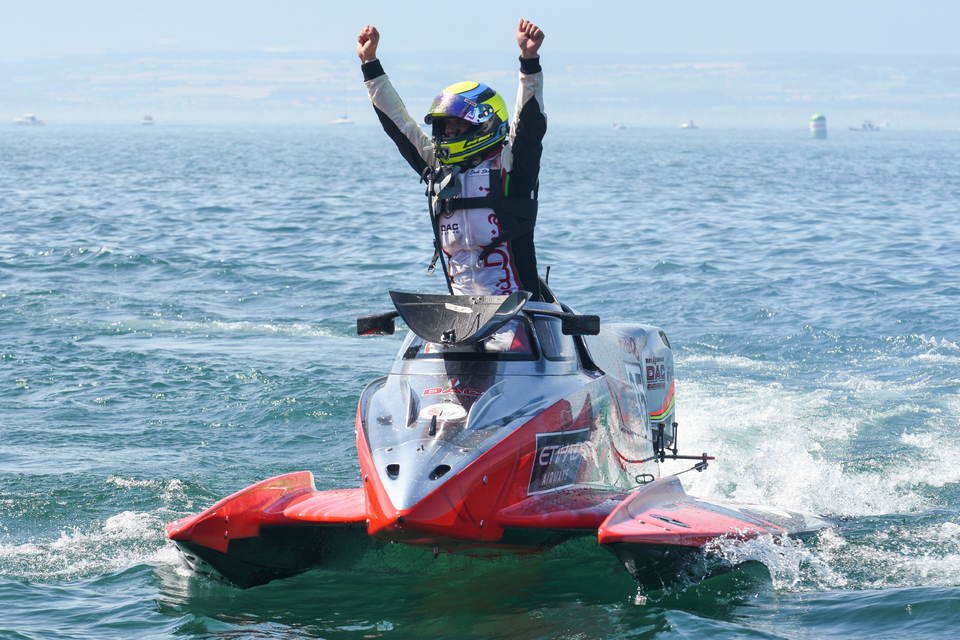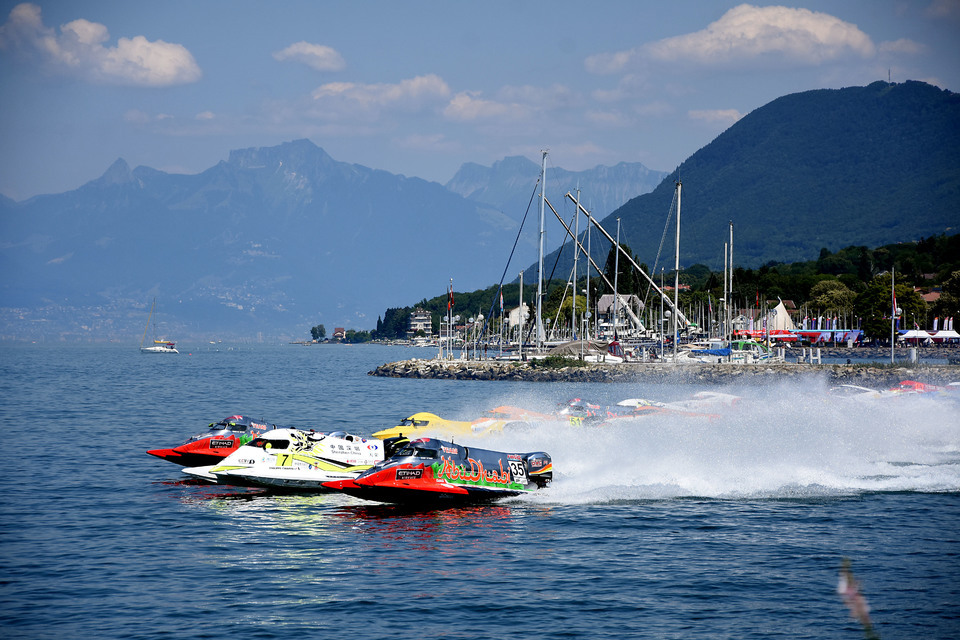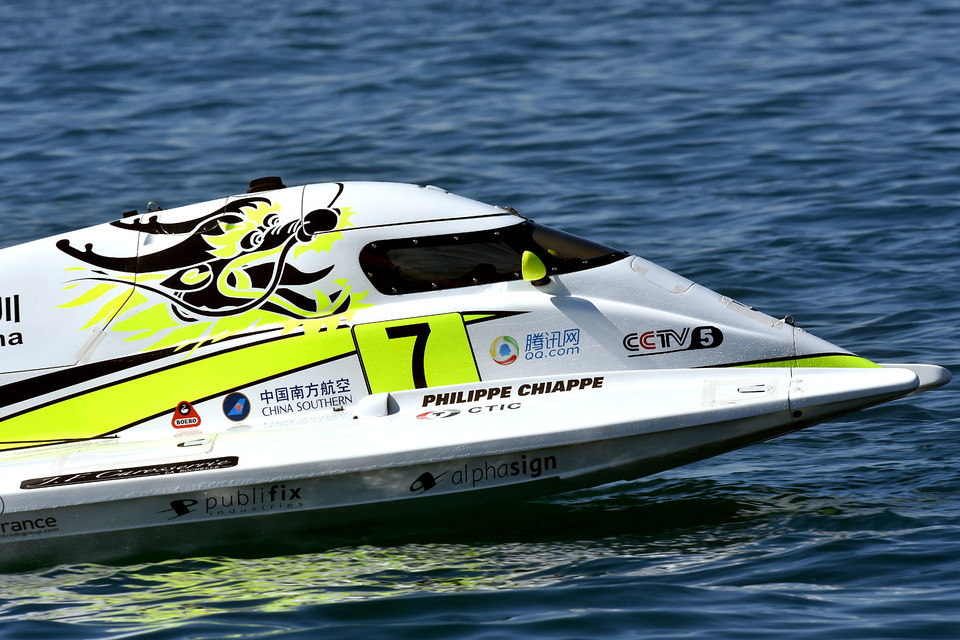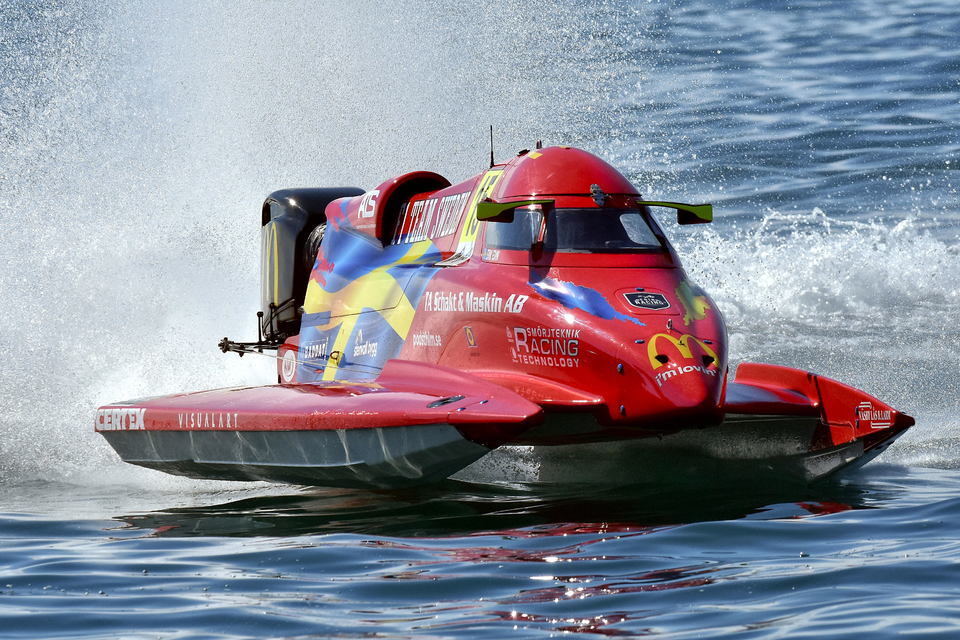 Monday, 17 September, XIANGYANG (China): Drivers and teams will renew rivalries when the UIM F1H2O World Championship resumes after its summer break at the Agile Grand Prix in Xiangyang, China on 21-23 September.
After three enthralling Grand Prix in Europe with two different race winners and three different drivers holding point in the standings, the fight for the coveted world title is set to ratchet up another gear as the championship enters phase 2 of the 2018 campaign.
Sweden's Erik Stark has enjoyed a stellar run and leads the title race and heads to China bidding to be the first driver in 14 years to win three successive Grand Prix.
Wins from pole position in London and Evian has catapulted the Team Abu Dhabi driver to the top of the championship standings on 41 points and victory in Xiangyang will match the Grand Prix hat-trick last achieved by Scott Gillman in 2004.
Heading into round 4 Stark's immediate challenge to his current top billing could well come from Abu Dhabi teammates Thani Al Qemzi and round 1 winner Shaun Torrente who complete the lock out the top three slots in the title race and, following the trios historic one-two-three last time out in Evian, Abu Dhabi now sit 26 points clear in the Teams World Championship standings.
Leading the attack to try and haul in the front runners is the CTIC F1 Shenzhen China duo who on present form look the most likely to continue to carry the fight to Abu Dhabi, with Philippe Chiappe 14 points in arrears of top spot in fourth and just one point in front of teammate Peter Morin.
Despite his unlucky no points finish in Evian, Chiappe has done little wrong this year and will be out to break the winning stranglehold of his Abu Dhabi rivals and is the only driver to make it into Q3 three times this season, converting that into two podium finishes. Keeping him on his toes and delivering a series of career-best performances is teammate Morin, a first career podium the highlight of his year so far with the likelihood of more to come.
Team Sweden's Erik Edin is enjoying a stellar year and leads the trailing pack in sixth spot on 11 points and another delivering a series of career-best performances, qualifying in fifth in London and finishing fourth in Evian. For teammate Jonas Andersson in 13th the season has been blighted by bad luck and some technical issues that has seen him fail to make it into Q3 and fail to get to the chequered flag in rounds one and two, but a top six last time out could be the start of an upturn in his fortunes.
Ahmed Al Hameli and defending champion Alex Carella's season started promisingly, qualifying in fourth and third and picking up points in sixth and fourth but it has trailed off, especially for Carella whose title defence has derailed somewhat spectacularly, crashing out of the last two races, Al Hameli managing to go the distance but banking just five more points, the Victory duo sitting in seventh and eighth in the points table.
Marit Stromoy is the best of the Emirates Racing attack and sits in ninth with teammate Bartek Marszalek struggling down in 16th, and she will be looking to build and improve on her two seventh place finishes. For Marszalek engine issues have been the problem, either limiting his time on the water or not getting out at all. But that said, the Pole has produced two strong qualifying performances getting into Q3 but has only manged one points scoring finish.
Sami Selio sits in tenth place after what can simply be described as a disastrous season so far for him and his Mad Croc BABA Racing teammate Filip Roms down in 18th. Engine issues have blighted their year with the pair frustrated in all qualifying sessions and collectively failing to start twice and failing to finish three times, the only ray of light Selio's fifth in London. But the Finn is optimistic that they can turn things around.
F1 Atlantic duo Duarte Benavente and Grant Trask are stuck together like glue with five points apiece in 12th and 11th and will be aiming to deliver improved results that both are more than capable of in the next phase, engine issues curtailing Trask in the opener but picking up his points with a strong top six finish in London, Benavente going the distance in all three races.
Cedric Deguisne's Maverick F1 Racing enjoyed their 15 minutes of fame in the spotlight in London courtesy of Erik Stark, with Deguisne hoping that he can improve on his qualifying performances which have so far left him with too much ground to make up in the races but still has picked up points in two out of three outings. For China the team bring in new driver Sookbuangbon Sutthiphan to replace Mette Brandt Bjerknaes.
Fifteenth place and just three points to show for his efforts is a cruel reflection on some brilliant outings by Blaze Performance owner-driver Francesco Cantando in his vastly improved Blaze hull, improving in qualifying at each Grand Prix with two solid Q2 showings and an impressive fourth in Q3 last time out, bringing his Blaze home in eighth in the opener, challenging for a podium finish in London and running in a podium slot for 36 of 42 laps in Evian but robbed of results by technical and engine issues, teammate and series debutant Simone Schuft getting round on her debut but struggling in the last two races, failing to finish and start.
China is the first stop of phase two of the campaign with the majority of drivers looking for an upturn in fortunes; Carella and Selio in particular will be hoping to add to their winning ways in the People's Republic, Carella the most successful and most recent of the present protagonists winning five times, Selio four. Al Qemzi has two wins under his belt, Al Hameli, Chiappe, Stark, Andersson and Cantando all with one.
Xiangyang in Hubei Province will be the 11th city in the PRC to host a round of the championship since its first appearance in Hangzhou in 1995, marking its 17th year and playing out its 24th Grand Prix in China.
First practice takes place on Friday at 14:00hrs [local], with a second practice session on Saturday at 10:15hrs and BRM Official Qualifying at 14:00hrs. The final practice session starts at 08:00hrs on Sunday with the Agile Grand Prix of Xiangyang starting at 11.00hrs.
2018 UIM F1H2O WORLD CHAMPIONSHIP STANDINGS – after round 3:
1. 35 Erik Stark (swe/uae*) 41pts
2. 5 Thani Al Qemzi (uae) 39pts
3. 6 Shaun Torrente (usa/uae*) 32pts
4. 7 Philippe Chiappe (fra) 27pts
5. 8 Peter Morin (fra) 26pts
6. 15 Erik Edin (swe) 11pts
7. 3 Ahmed Al Hameli (uae) 10pts
8. 1 Alex Carella (ita/uae*) 9pts
9. 50 Marit Stromoy (nor) 8pts
10. 11 Sami Selio (fin) 7pts
11. 9 Grant Trask (aus) 5pts
12. 10 Duarte Benavente (por) 5pts
13. 14 Jonas Andersson (swe) 5pts
14. 73 Cedric Deguisne (fra) 3pts
15. 37 Francesco Cantando (ita) 3pts
16. 51 Bartek Marszalek (pol) 3pts
17. 70 Mette Brandt Bjerknaes (nor) 0pts
18. 12 Filip Roms (fin) 0pts
19. 36 Simone Schuft (ger) 0pts
20. 35 Rashed Al Qemzi (uae) 0pts
(*international racing super license)