September 9, 2022
STROMOY HOPES "WHIRLWIND" OF ACTIVITY LEADS TO MORE F1 SUCCESS!
F1H2O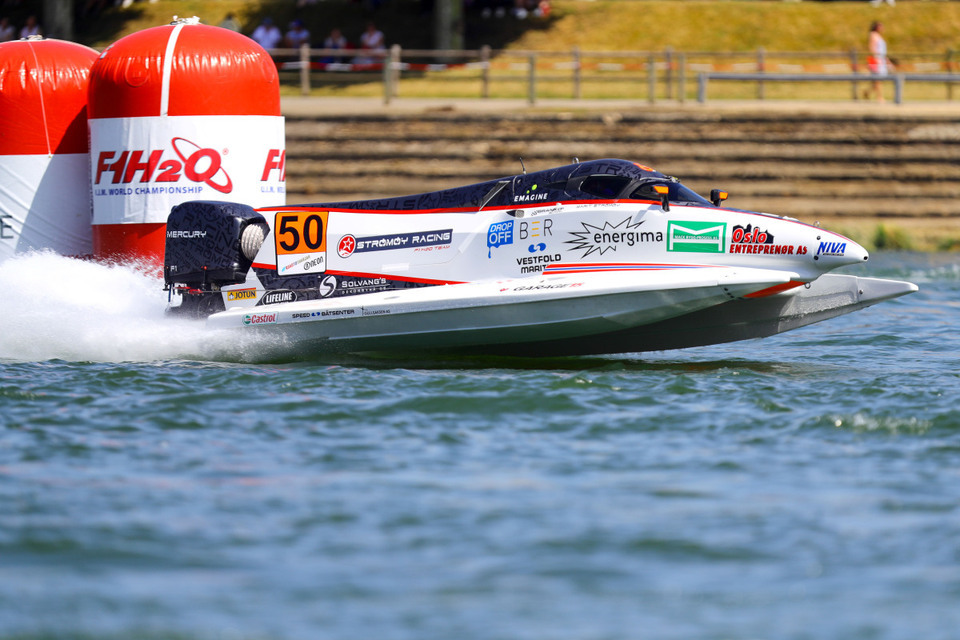 FRIDAY, 9 SEPTEMBER – The most talented woman racer on water, Marit Stromoy of Norway, heads to the second and third rounds of the UIM F1H2O World Championship in San Nazzaro, Italy on the 24th and 25th of September hoping all her hard work over the summer recess will pay off with more victories and podiums in the near future during the 2022 season.
Widely regarded as one of the hardest working personnel in the race paddock, Marit is known for her dynamic promotional ideas and creative ways to get her many sponsors involved during her racing weekends. Marit continues to have a non-stop promotional schedule.
"We've been going non-stop for most of the summer since the Grand Prix of France, updating the boat, attending promotional events and boat shows as we continue to help our many sponsors and most importantly promote our "brand" stated Marit. "We've got a crazy two more weeks on tap before heading to Italy but I can't wait to get back into my race boat again. It's what makes me tick."
Marit will attend the Oslo Boat Show, followed by an important event in Croatia representing her main sponsor Energima.
However, this is just the tip of the iceberg.
Her promotional work is paying off, as she continues to be one of most recognizable sports persons in all of Norway while staying headlong into the entertainment world. Her on stage singing and dancing talents are in constant play and keep her busy throughout the year despite her busy racing interests.
The 14 year racing veteran and Manager of the Stromoy Racing Team, is known as one of the series best drivers. She proved that point when she was honored as being the first female pilot to ever be named the UIM F1 H2O "Driver of the Year" in 2020 after finishing a career best third place position in the Drivers Points Table for the 2019 campaign.
Alongside husband and talented crew chief Andrea Colombo, Marit continues to fine tune her BABA racing hull hoping to improve on last years result on the Po River when she qualified a fine fifth only to drop out early and being classified 14th at days end.
At this years opening round in Macon, France in early June, Stromoy qualified eighth and finished sixth where she currently sits in the drivers table with five points.
But, for Marit, it's not just her racing but her "brand." She promotes her image by selling an array of articles of clothing and sunglasses both at the race events and on her internet site.
She and teammate Bartek Marsalek of Poland are both hoping to finish on the podium at the upcoming "doubleheader" of Grand Prix's in San Nazzaro with the FIM Grand Prix of Regione Emilia Romagna on Saturday the 24th and FIM Grand Prix of Italy on Sunday the 25th of September.
The driver from Sanderfjord, Norway will be looking for her second career pole in qualifying and her second victory in the race. She will try to add to her five career podiums as she tries to push further up in the points standings and challenge for her first UIM F1H2O World Championship before the season comes to an end.
You can follow Marit and the rest of the talented multi-national field of drivers by going to the tours official website at www.f1h2o.com or on Facebook.
The FIM events and the Grand Prix's of Emilia Romagna starting on Saturday at 15:00 local time followed by the Grand Prix of Italy on Sunday the 25th of September at 17:00 local.
Let's see if all the hard work that Marit puts in away from the race site pays off on the Po River.
Be in the Know – with UIM F1H2O!