September 30, 2023
SPRINT RACE 2 SUCCESS FOR ITALIAN RACER ALBERTO COMPARATO
F1H2O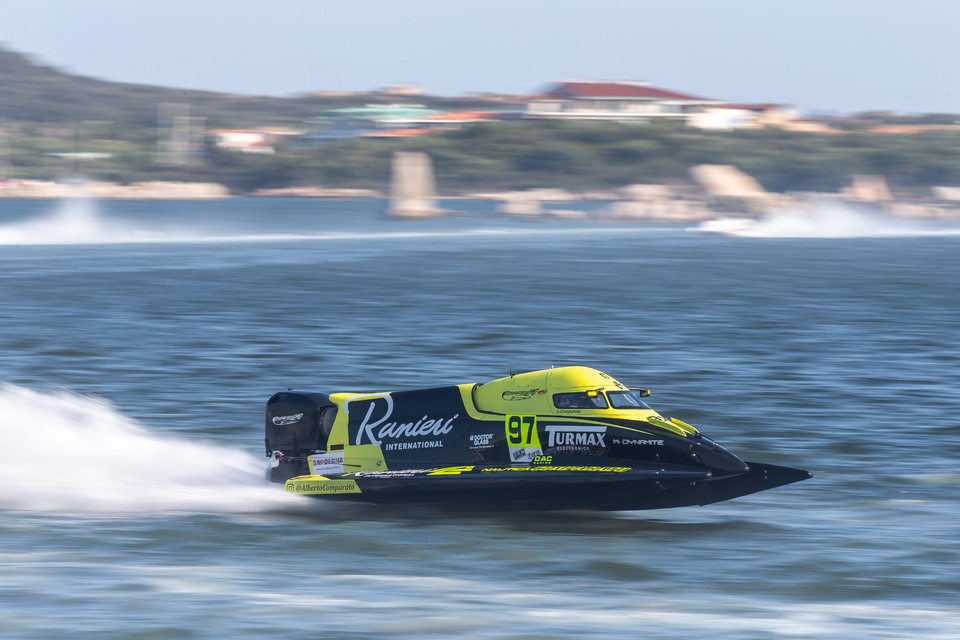 Saturday, September 30: Italian racer Alberto Comparato took full advantage of his pole position to secure a lights-to-flag victory in the second sprint race for the Group B runners at the Regione Sardegna Grand Prix of Italy on Saturday afternoon.

The youngster finished 2.51 seconds ahead of the China CTIC Team's Peter Morin, with Mad Cric Gillman Racing's Filip Roms and Team Abu Dhabi's Rashed Al-Qemzi finishing third and fourth.

Comparato started the second of the sprint races from pole position with Morin, Al-Qemzi, Roms and Bartek Marszalek pursuing him from the start pontoon. Technical issues in the morning's qualifying session meant that two-time World Champion Sami Seliö had dropped to the rear of the field for the 20-lap race but the Finn did not start.

Comparato and Morin made a good start but Al-Qemzi struggled away from the pontoon and was overtaken by Roms on the opening lap. Comparato began to edge clear of Morin and extended his advantage to 3.96 seconds heading into lap four. Team Sweden's Kalle Viippo moved through the rear of the field to hold sixth place behind Marszalek – a position he held to the finish.

At the halfway point, Comparato had increased his advantage over Morin to 4.90 seconds, with Roms, Al-Qemzi and Marszalek retaining their places in the top five. There were no changes in the running order over the next few laps, although Maverick Racing's Cédric Deguisne began to slip behind and trailed in ninth place behind Ahmed Al-Fahim and Ben Jelf.

By three-quarter distance, after 15 laps, Comparato's lead had shrunk slightly to 2.72 seconds but the Italian held on over the remaining five tours to secure the sprint race win. Morin finished 2.51 seconds adrift and Roms, Al-Qemzi and Marszalek rounded off the top five.