November 25, 2021
JONAS ANDERSSON EARNS MAGICAL POLE IN FIGUEIRA DA FOZ
F1H2O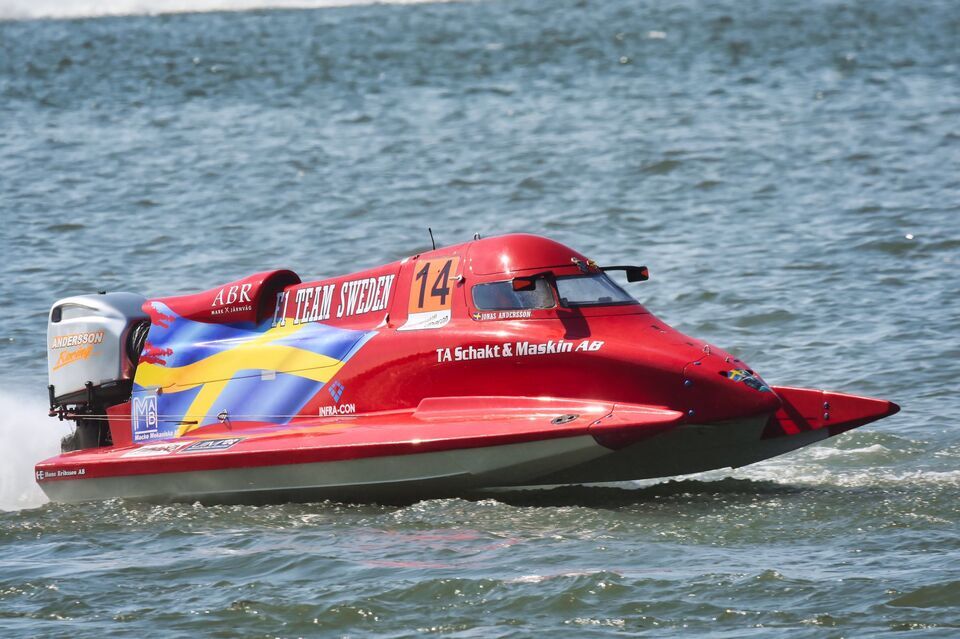 Thursday 25 November: FIGUEIRA DA FOZ (Portugal): Swedish veteran driver Jonas Andersson used all his skill and cunning to lay down a record breaking 39.599 second lap around the 1.77km (1.1 mile) lap, to steal away his first pole of 2021 and his sixth of his 15 year career, beating American and two-time defending World Champion Shaun Torrente by .121 of a second and will lead the field of 15 drivers for tomorrow's Grand Prix of Figueira Da Foz in Portugal.
The Team Sweden lead driver, used his third quickest time in the second qualifying session to put himself in the final "Q3" shootout for pole position being just one of two drivers to qualify under the 40 second mark, with a brilliant combination of perfectly edged turns around the multi-pin circuit on the Mondego River.
"We know how important it will be to get a fast start tomorrow and it sure feels good to be starting up front. Hopefully we will stay there all the way home on Friday afternoon" – stated Andersson.
Team Abu Dhabi's driver Shaun Torrente dug himself out of a huge hole hanging on to the very end and on the final lap of "Q2" moved himself up to sixth and into the "shootout" for pole.
First out on the water, Torrente drove an almost perfect lap 39.720 second lap and watching all by one of his five other competitors slip down the order eventually moving him up from sixth now starting second in the race chasing his 10th career victory as well on Friday.
"I was truly proud of what we did as I knew it was going to be a struggle in "Q2" with traffic and water conditions and was so happy to move onto the "Q3" round and now starting second tomorrow." Said Shaun.
Third fastest Sami Selio who came up short but still happy to be in the top-three for tomorrow's event with a 40.017 second lap and four/tenth's of a second behind Andersson in the end in his Sharjah Racing hull.
Selio who was on the podium with a third place finish at the Grand Prix of Europe nine weeks ago in San Nazzaro, Italy has a shot at winning his third world title and his first since 2010 with forty points up for grabs this weekend in the next 72 hours.
Starting fourth is Norway's Marit Stromoy who was chasing her second career pole and her second in Portugal laid down a 40.217 time hoping to finish tomorrow's event for the first time in 2021 in her Stromoy Racing Italian built BABA hull.
Fifth fastest was rookie driver Ferdinand Zandbergen of the Netherlands who made a giant impression on everyone around the circuit with a time of a 41.016 in his very first F1 event coming over from the F2 ranks and being the first Dutch driver to take a ride in an F1 boat in 35 years.
Rounding out the top-six was French driver Peter Morin of the CTIC Shenzen China Team who was hoping to earn his first pole position in his brief four seasons in the sport. The driver from Rouen finished with a 41.073 second time and 1.4 seconds behind Andersson at the end.
Second year sensation Alberto Comparato, who earned pole position at the season opener in Italy was bumped on the final lap of "Q2" by Torrente with a 42.079 being his best.
Kalle Viippo was eighth in his Team Sweden machine while setting a 42.287 second lap.
World points leader Thani Al Qemzi of Team Abu Dhabi had a very disappointing day qualifying down in ninth place with a 42.361 lap and is hoping to charge his way towards the front tomorrow with a five point lead in the championship and hoping to be the first driver from the United Arab Emirates to win the title.
Filip Roms of the Sharjah Team rounded out the top-10 with a 43.120 lap and now will look to climb the mountain into the top-five if possible for the 27 year-old driver from Espoo, Finland.
Local driver Duarte Benavente of Portugal was just outside the top-10 with a time of 44.329 in his Atlantic Racing Moore hull and will start 11th.
Bartek Marszalek of Poland who is fifth in the championship hunt starts 12th with a 44.521 after being forced to qualify in his back-up engine for Stromoy Racing.
The Maverick Racing "French duo" Alexandre Bourgeot and teammate Cedric Deguisne will start tomorrow 13th and 14th. whilst Gillman Racing driver Alec Weckstrom of Finland failed to start with a mechanical problem but will be ready to race in tomorrow's Grand Prix of Figueira Da Foz.
All eyes will be focused on Duarte Benavente in boat #10 this weekend to bring glory to the thousands of locals who will see their first U.I.M. F1 H2O race on home waters of the Rio Mandego as the city of 62,000 residents becomes the third different venue in Portugal since it's first Grand Prix event back in Portimao in 1999.
The second round of the 2021 U.I.M. F1 H20 World Championship is scheduled on Friday 26th at 15:30 UTC with 15 drivers from 10 different nations ready to take to the water in this historic two round weekend series to crown the 2021 Champion.