June 27, 2023
HISTORIC FRENCH TOWN OF MÂCON TO HOST THIRD ROUND OF UIM F1H2O SERIES THIS WEEEKEND
F1H2O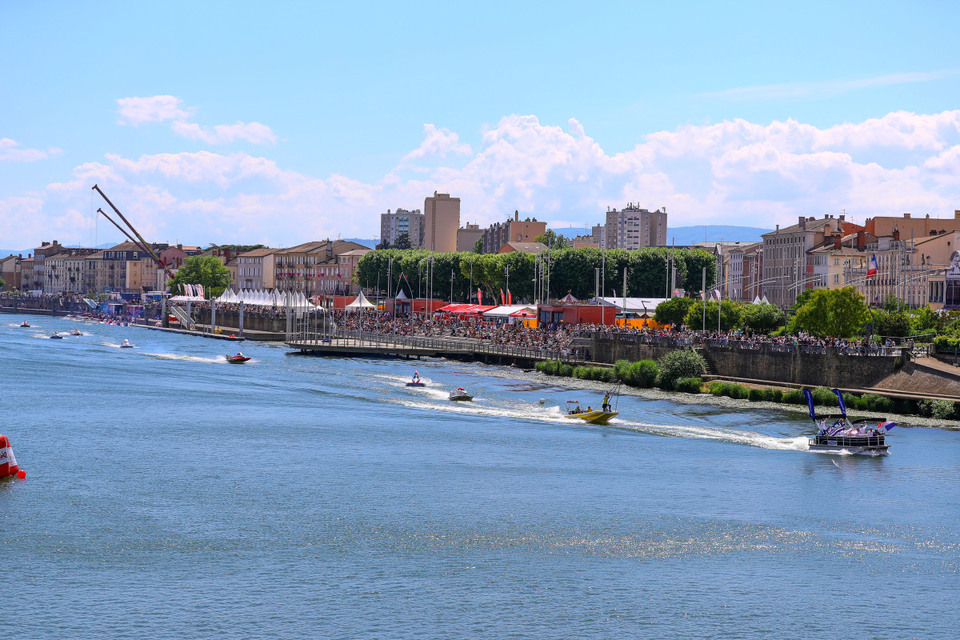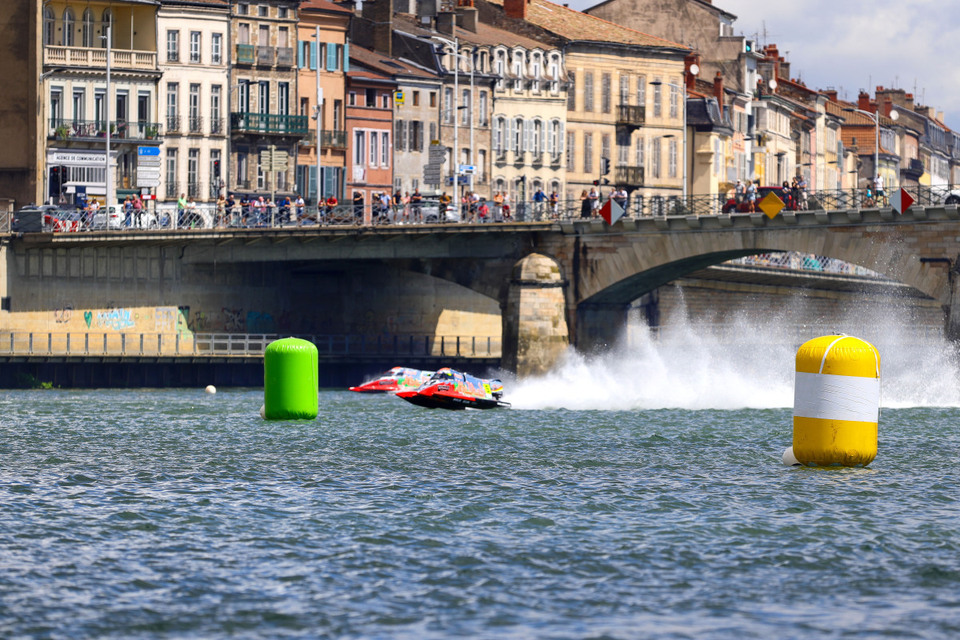 Tuesday, June 27: After the opening two rounds of the UIM F1H2O World Championship in Indonesia and China, Europe hosts the first of its two rounds of the series this weekend on France's River Saône in the picturesque town of Mâcon.
The Grand Prix of France will take place on the demanding course in the administrative centre of the Saône-Loire region for a second season and will see the titans of the championship lock horns for a third time in 2023 since the series burst into life on spectacular Lake Toba in Sumatra at the end of February.
Team Sweden's former World Champion Jonas Andersson clinched an emphatic start-to-finish victory at the Grand Prix of Zhengzhou, China on the Yellow River in April and that performance has handed the Swede a slender two-point cushion over fellow countryman Erik Stark of the Victory Team. Race one winner Bartek Marszalek is a point further adrift in third place, as 10 teams and 20 drivers descend upon central France.
Team Abu Dhabi's Shaun Torrente is the defending World Champion and the Florida racer started his 2022 campaign in winning style in Mâcon last year. The three-time champion has not made the best of starts to the campaign by his own exacting standards and second place in China and an unfortunate ninth in Indonesia see the American head to France in fourth place in the drivers' standings, six points behind Andersson.
Two-time World Champion Sami Seliö began the season strongly by shadowing Marszalek to the finish on Lake Toba but a damaged boat ruined the Finn's challenge for honours in China after he had qualified in third place behind Andersson and the CTIC China Team's Peter Morin. Seliö also suffered more than his fair share of bad luck in 2022 as well and will be hoping to build upon the 15 points he earned in Indonesia that have placed him fifth in the standings. His Dutch team-mate Ferdinand Zandbergen is a point further adrift after finishing third in China, following retirement on round one.
Mad Croc Gillman Racing's Filip Roms has two finishes under his belt: the Finn was seventh in Indonesia and fifth in Zhengzhou and holds seventh in the Drivers' Championship. Australia's Grant Trask replaced Alec Weckström as his team-mate before the last race on the Yellow River but did not finish the race.
The CTIC China Team has scored points on both races but will be hoping for an improved performance in Mâcon. Morin finished third on the River Saône last season but was not able to follow up a fine fourth on Lake Toba with a finish in China. Likewise, new team-mate Brent Dillard began the season strongly with sixth place on his round one debut and then scored a solitary point for 10th place in Zhengzhou.
Emirati veteran Thani Al-Qamzi finished fifth for Team Abu Dhabi on the opening round but was replaced by his cousin Rashed for personal reasons in China. The multiple UIM F2 World Champions did the team proud with a solid run to seventh and the ADIMSC-based team will need that level of consistency if they are to defend their UIM Teams' Championship once again.
While Strømøy Racing F1H2O Team's Marszalek was snatching all the media headlines for his first ever pole position and Grand Prix win in Indonesia, Marit Strømøy was forced to retire the team's lead boat with fuel pressure issues. The Norwegian star did bounce back with a solid sixth place in China and both team members will be hoping to be on the pace from the outset in France.
Alberto Comparato had hoped for a better start to his 2023 campaign in the first of two Comparato F1 boats alongside Brock Cohen. But the Italian was only able to finish the opening race in 12th and followed that performance with eighth in China. Cohen was out of the points in 11th in China after retiring from the first race.
Maverick Racing's Cédric Deguisne is an integral member of the organising team for the race in Mâcon and he and team-mate Alexandre Bourgeot would like nothing better than to challenge for the top five this Sunday. Last year the duo finished 10th and 11th on their home race and have started this season with 13th and 11th-place finishes in Indonesia and 13th and 14th overall in China.
Andersson's team-mate is the Finn Kalle Viippo: he has made a useful start to his campaign with 14th place in Indonesia and ninth on the Yellow River.
Three other drivers hoping for a turn around in their fortunes are Victory Team's Ahmad Al-Fahim and the F1 Atlantic Team duo of Duarte Benavente and Ben Jelf. Al-Fahim damaged his boat before the Chinese race and failed to start after finishing 10th on Lake Toba. Benavente finished 15th and 12th at the opening two races but Jelf has two non-finishes to his name after starting his F1H2O career strongly in Sharjah last December.
Free practice on Saturday (July 1st) will be split into two groups of 10 boats with Group A taking to the water for 75 minutes from 10.00hrs and the remaining 10 boats testing on the course from 11.20hrs. Groups will contain odd and even-numbered race boats, meaning that one boat from each team will feature in each session.
BRM Qualifying in the afternoon will then be split into two groups of 10 boats. A 20-minute Q1 session for Group A fires into life at 15.00hrs and Group B takes to the water at 15.30hrs. The fastest six qualifiers will then battle it out for pole position in a 15-minute stint from 16.00hrs.
Sunday's Grand Prix of France fires into life at 15.30hrs after a morning's warm-up session. It will also be Carbon-Neutral with CO2 emissions being offset by a local reforestation programme called Reforest Action.