October 31, 2017
GRAND PRIX OF LONDON LAUNCHED TO INTERNATIONAL BUSINESS SECTOR
F1H2O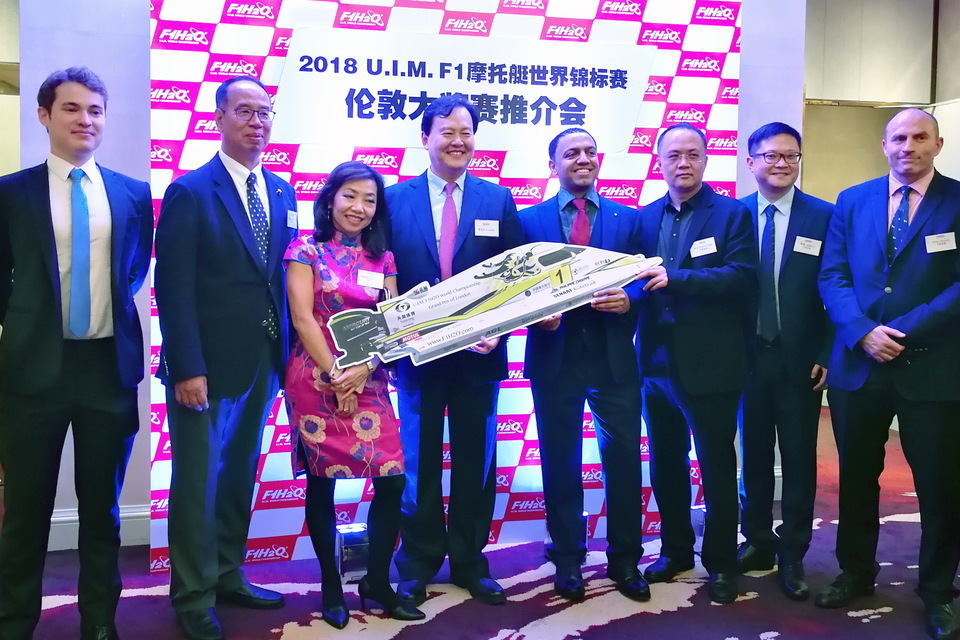 Tuesday, October 31: Lavish plans and the vision for the 2018 UIM F1H2O Grand Prix of London were outlined by event promoter Tianrong Sports at a glittering reception held recently at the Four Seasons Hotel, 10 Trinity Square in the heart of London.
The event was attended by Jinxu, the Minister Counsellor of Economical and Commercial Counsellor's Office of the Embassy of the People's Republic of China in the United Kingdom, Peter Phillips, Managing Director SEL UK, Cao Jie, the Head of Asia Pacific Region for London & Partners, Li Haojie, Chairman Tianrong Sports the London Promoter, Raimondo and Paolo di San Germano, H2ORacing, and corporate members of the China Chamber of Commerce in the UK.
Li Haojie stressed the significance of the event to enhance and embrace the further commercial opportunities between England and China. "The Royal Victoria Dock, the venue of the race, was the starting point of the Maritime Silk Road in England centuries ago and had witnessed the history of maritime trade between China and England and Europe on ceramics, silk cloth and tea. With the development of exchange in the fields of culture, art, music and fashion and sport between China and England in recent years, this site will also attract a large number of Chinese tourists for sightseeing, providing great business opportunities and enormous potential."
In addition, the Launch Event disclosed the Economic and Trade Forum will be held during the London race event, with objective to strengthen the investment and economic exchanges between China and England and even Europe. The forum will help Chinese enterprises reach out to the world and share the business opportunities of a London race event with Tianrong Sports.