June 27, 2017
EVIAN SET FOR THRILLER AS DRIVERS TAKE ON THE CHALLENGE THAT LIES IN WAIT ON LAC LEMAN
F1H2O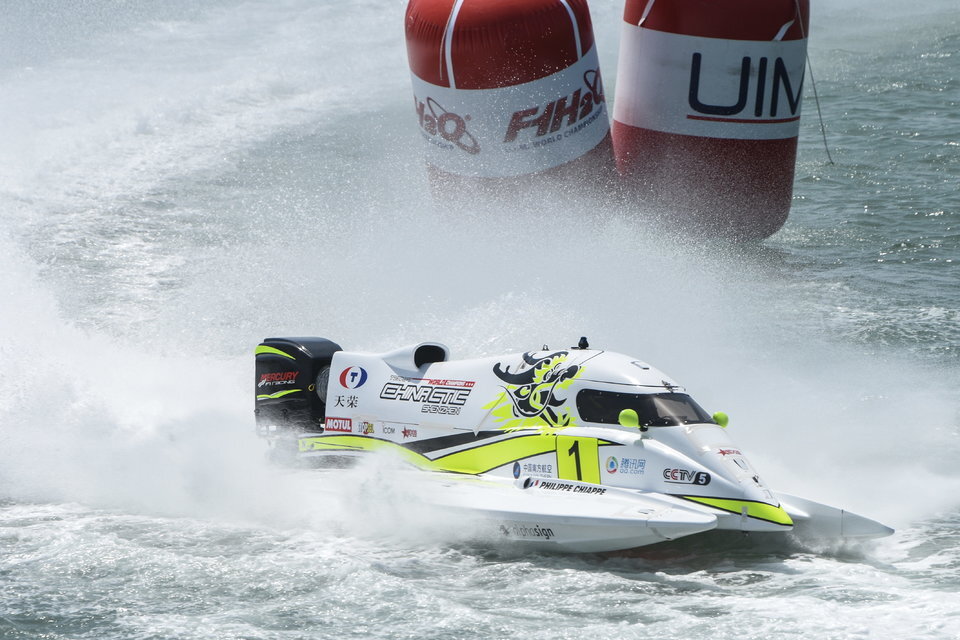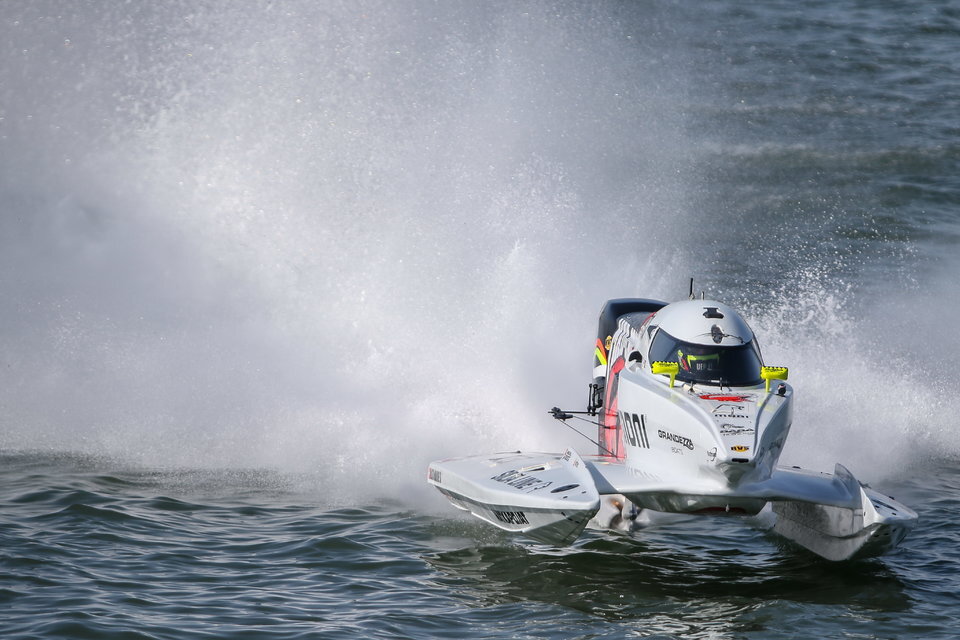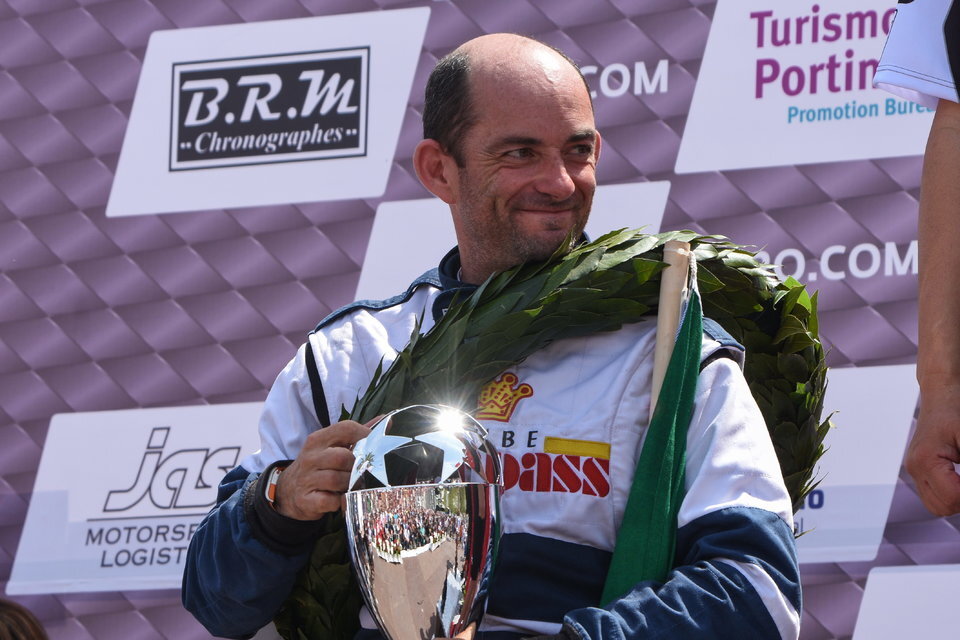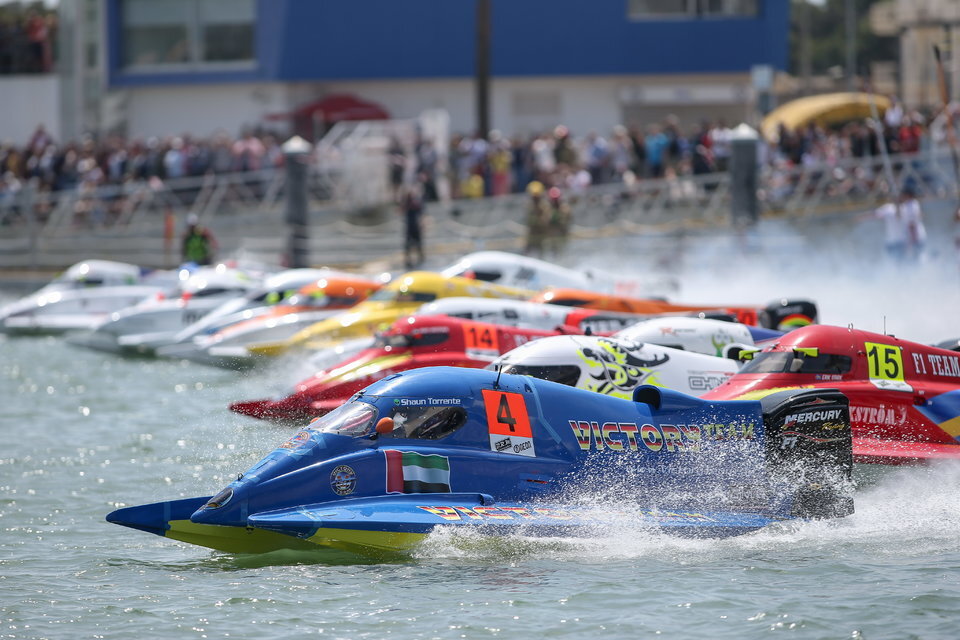 Monday, 26 June, EVIAN (France): After taking advantage of the downtime following the season opener to address and resolve issues and gain valuable testing time on the water, 20 drivers and nine teams from 12 countries now take on the daunting circuit and conditions that Lac Leman is likely to throw at them at the 21st Grand Prix of France on 1-2 July in Evian, round 2 of the prestigious UIM F1H2O World Championship.
Philippe Chiappe the defending world champion and early points' leader following his win in Portugal will be hoping to tame his 'bogey' circuit at the third attempt and become the first Frenchman to win on home waters. But despite qualifying in pole in 2015 and in third last year, the CTIC F1 Shenzhen China driver has failed to get to the chequered flag on both occasions. Lining up alongside him is teammate Peter Morin, making just his second start in the top-flight and looking to improve on ninth place last time out.
The team tested last week and will take a late decision on which boat Chiappe runs, old or new, depending on conditions.
Finland's Sami Selio heads to Evian hoping he can improve on his previous outings and repeat his victory on French waters in La Rochelle in 2007, his first win in the F1H2O Championship. The Mad Croc BABA Racing' driver is clearly back to the kind of form that won him two world titles and, unlike last year, has made a good start to this year with second place in Portugal.
After the frustration of failing to finish in the season opener teammate Filip Roms will be relishing returning to Lac Leman where he took his first ever podium with third place in 2015 and a year later produced one of his strongest ever drives to give him his highest placed finish in second.
But the team heads to France without the time on the water they had planned, but Selio remains upbeat and is confident that he will be in the mix and can better his two previous results [in Evian].
F1 Atlantic's Duarte Benavente is enjoying a remarkable run and now sits as a lone driver to have finished in the points in the last eight races after his excellent podium third on home waters in Portugal and looks more than capable of bettering last year's seventh place, with new teammate and F1H2O rookie Grant Trask also impressing and will make his Evian debut after a second consecutive very solid points finish.
Three time world champion Alex Carella has the dubious record of being first to take the chequered flag in Evian on both occasions, but is only credited with one victory, in 2016 when he ruled the waves on Lac Leman with the pole and race double.
The Italian driver was heroic last time out after a very troublesome season opener for Team Abu Dhabi, dragging his boat from 15th off the dock to fourth to grab valuable championship points and save the team's blushes and will be hoping for a trouble free outing in France. Teammates Thani and Rashed Al Qemzi were both side lined in Portugal and will be looking to kick start their season proper in Evian, team manager Guido Cappellini confirming that all drivers will run the same boats.
After a strong early showing in qualifying last time out before he dropped into a hole and turned over, ending his race chances, Italy's Francesco Cantando will line up in Evian looking to end his dismal run there and hopefully in his brand new Blaze which the team has worked frantically on to have ready for Evian, whilst his ever improving Blaze Performance teammate Bartek Marszalek will be eager to get back on the water looking to build on his excellent drive to fifth in Portugal, well aware that his post-race penalty cost him his first podium.
French outfit Maverick F1 Racing line up for their home Grand Prix with Cedric Deguisne returning to the venue where he enjoyed his best ever result with a fine fourth last year and after a solid season opener finishing in sixth despite technical problems, with teammate Amaury Jousseaume looking to make up for the disappointment of retiring after 27 laps on his F1H2O debut. The team has also confirmed they will run a third boat with Beranger Robart set to make his F1H2O debut.
Team Sweden's Erik Stark is another with a poor record on Lac Leman and is yet to finish a race and, despite a flat battery costing him a podium in Portugal, the young Swede will be looking for more of the same pace he showed last time out after qualifying in third and running in second for all but two laps.
Teammate Jonas Andersson has two podiums on French waters, his last in Evian in 2015 and is targeting his first points of the season. The pair will run the same boats and have been testing back home in Sweden, trying different propeller set ups and running the engines on the dyno and on water with the same fuel used in Portugal to try to better understand how the engine reacts to it.
Despite having the fastest two boats in Portugal and pole-sitter Shaun Torrente leading the race by a country mile for 10 laps before his engine let go, Victory Team will arrive in Evian pointless with Torrente and especially Ahmed Al Hameli, after his spectacular crash, desperate to get their title challenges back on track.
Torrente will also be eager to get the win that eluded him last year after an uncharacteristic mistake cost him the lead and probably victory, settling for third. The American is always the first to hold his hand up if he makes an error and equally shrugs off and accepts misfortune, always seeing the glass half full and is convinced he has the pace to beat the number 1 boat!
Emirates Racing will also be looking to turn their fortunes around in Evian and post their first points of the year after engine issues side-lined Marit Stromoy last time out and teammate Mike Szymura was disqualified.
But Stromoy, who finished sixth in 2016, is already anxious about what lies ahead after her problems and despite taking the positives that her boat was quick in Portugal says 'you can prepare as much as you want in terms of tuning, testing, new technology, but a different fuel can take matters out of your hands'.
Szymura was expected to switch back into his upgraded Dragon 'Evo' which has been considerably modified by Dragon F1 Powerboat boss Jonathan Jones, working closely with Dave Burgess and Dai Morgan, but has opted to remain in the DAC.
Whilst both previous Grand Prix held in Evian have run to schedule and delivered up spectacular racing, both BRM Qualifying sessions succumbed to the weather and waves; in 2015 Q3 was rolled over to the Sunday and the following year a revised 20 and 30 minute format was also held on the Sunday.
There is much for the teams and drivers to think about as they prepare to take on the demanding 2210 metre Evian circuit and the notoriously unpredictable weather conditions and waves that the mighty Lac Leman may well serve up.
[The UIM F1H2O Grand Prix of France will be streamed live on f1h2o.com – coverage of BRM Official Qualifying starts at 16.15hrs on Saturday, 1 July with the Grand Prix of France starting at 15.00hrs on Sunday, 2 July…ALL times local]