December 13, 2022
DRIVERS SET SCENE FOR SHARJAH SHOWDOWN AT PRE-EVENT PRESS CONFERENCE
F1H2O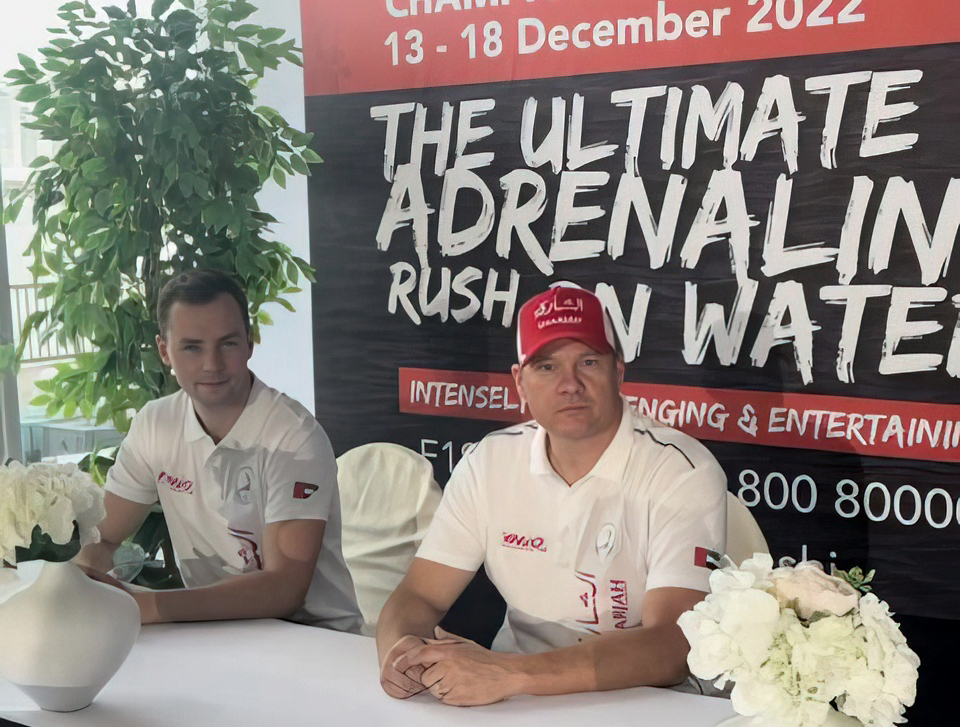 SHARJAH (UAE): Tuesday, December 13: Sami Selio, Ferdinand Zandbergen, Alec Weckström, Jonas Andersson and Team Abu Dhabi's team manager Guido Cappellini attended Tuesday's official pre-event press conference before the two Sharjah Grand Prix bring the 2022 UIM F1H2O World Championship season to a close on Friday and Sunday.
Jonas Andersson is the defending World Champion and won the Sharjah race from pole position in 2019. The Swede said: "I really like this place. This was my first podium in my first year in F1H2O in 2006. For me, it's the best race place in the world. It is a very fast course and rough and takes a lot of the drivers to make it good. The momentum is perfect. It is going to be tough but anything can happen…"
Two-time World Champion Sami Selio has claimed four pole positions in the past in Sharjah. The flying Finn added: "We have been working very hard and it is our pleasure to be back in Sharjah, now this is our home town, the home of the team. I am very proud to be here as part of the team. A big thanks to Sharjah International Marine Club to give this opportunity for us to be here. There is a little bit extra pressure but we will try and stay calm and do our best. It would be an honour and a small dream to win here, finally, as a pilot of the Sharjah Team. We need to be smart now. Ferdinand (Zandbergen) still has a chance to fight for some position in the championship and we need to see how the race goes and if we have to play together in a smart way. My aim is to get the pole position and win the race for Sharjah.
"In 2019, we signed the contract with the Sharjah Team and it's not only the racing. We are building up the Marine Sports Club and the sport here in Sharjah. In and out of the water, with the coaching of the water sport. The job they have done is amazing. Two years ago, no-one knew the club was there and now you go there and see all the sailing boats and kayaks. The team is a part of that. I really enjoy it here."
Sharjah team-mate Ferdinand Zandbergen holds fourth in the title race. The Dutchman added: "Of course, we plan to win these two races. This is my first year. I had my first win and that was amazing. That was all down to the effort from the team and how they work."
Team Abu Dhabi's team manager Guido Cappellini is a 10-time World Champion in his own right and his team drivers, Shaun Torrente and Thani Al-Qemzi, hold the top two spots in the Drivers' Championship heading into the Sharjah double-header. The Italian said: "It is not easy. The pressure for the drivers is very high and also for the team. It is easy to make one little mistake. The drivers tested in Abu Dhabi last week and we all try to do our best and get the best results."
Gillman Racing's Alec Weckström began his motor sporting career in karting and holds fifth in the championship standings. The Finn admitted: Boat racing and karting are quite similar in many ways. Scott Gillman has helped me to adapt my racing style to boats. This is double speed that I was used to in karting but I was 10-years-old at the time…"