December 15, 2017
COUNTING DOWN TO TITLE DECIDER – STROMOY QUICKEST IN PRACTICE
F1H2O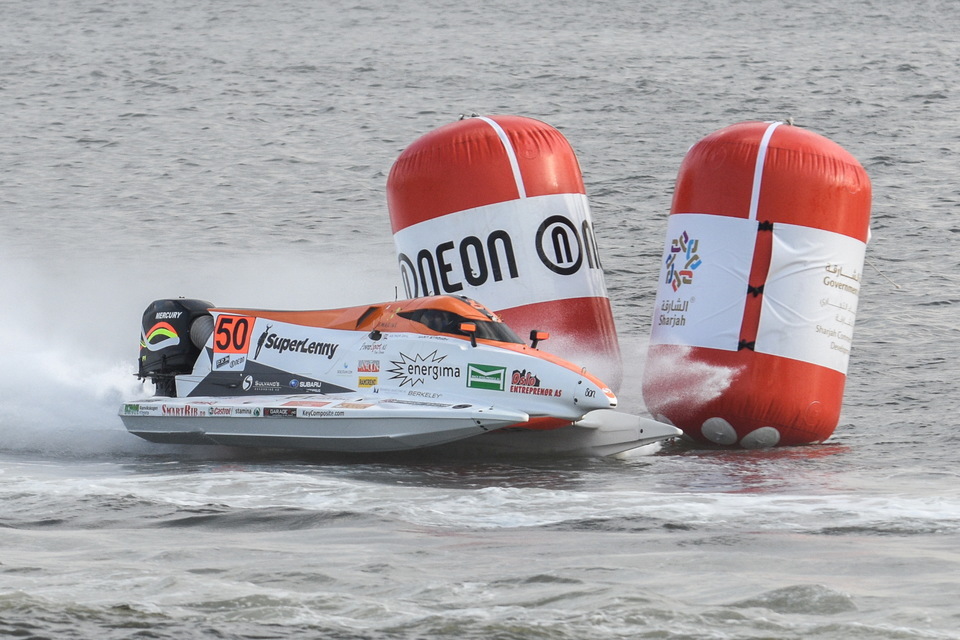 Friday, 15 December, SHARJAH (UAE): Title rivals Alex Carella and Philippe Chiappe both came through this morning's practice session unscathed and facing no issues ahead of this afternoon's title decider at the UIM F1H2O Grand Prix of Sharjah, Carella starting in pole position, Chiappe from fifth.
Carella had a gentle outing clocking just five laps to check everything was running well and did not go for a time, with Chiappe running 13 and posting a time in the mid 48s.
The same cannot be said for Victory's Shaun Torrente who went over towards the end of the session and was completely baffled by the crash. "I really couldn't tell you what just happened," he said. "Normally I know why I crashed. Not this time. I was running down the back and getting ready for the corner, everything was good then the next thing I am going backwards and upside down, the waters dark and I'm wet.
"The boat is broke so we will now get the Moore ready and prepare to start from the back and see what we can get out of the day."
Marit Stromoy was the quickest of the 12 drivers who went out, posting a time of 46.95s and was very happy with the set-up and unfazed by missing the top six cut yesterday and said, "It is so close these days and we were certainly there just 0.02s off Q3 but unfortunately the wrong side of the cut so we start in seventh."
Erik Stark went second quickest but ended the session with a slight electrical problem but that it had been resolved. He starts the race from P2.
Abu Dhabi's youngest driver Rashed Al Qemzi was again mixing it at the top of the time sheets going third quickest and will be looking to bank his first championship points this afternoon.
Missing from the this afternoon's line up will be Sami Selio who said that despite the hard work the team had put in to have the boat 100% ready to race they had just run out of time and didn't want to risk further damage.
Joining Torrente at the back will be Grant Trask, Duarte Benavente and Erik Edin after changing engines.
For full classifications/starting grid: http://f1h2o.com/results/2017/grand-prix-of-sharjah/f1h2o