September 23, 2022
ABU DHABI'S TORRENTE TAKES POLE POSITION AT FIM – F1H20 GRAND PRIX OF REGIONE EMILIA ROMAGNA
F1H2O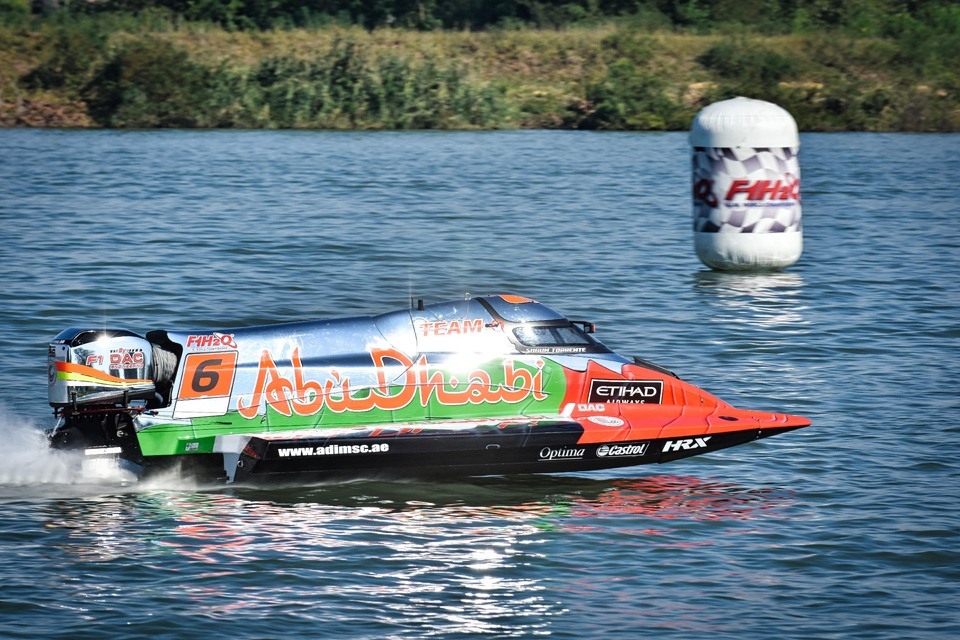 Friday, 23 September, San Nazzaro (Italy): Shaun Torrente produced a simply sensational final lap in today's Qualifying top six and set the fastest time of 42.09 and will start tomorrow's FIM- F1H2O Grand Prix of Regione Emilia Romagna from pole position.
Torrente who saved the best for the last to take his tenth pole position of the career said: " This pole is super important to me and hopefully I'll do a clean start tomorrow "
Second best time with 0.16 gap for Sharjah Team's Sami Selio who was the fastest in Q2 and was running Q3 till the last lap.
Philippe Chiappe from China team, after producing the best time in Q1, will start tomorrow in third position.
Fourth place for defending Champion Jonas Andersson with Thani Al Qemzi going fifth quickest and Alberto Comparato closing the top six.
The young italian driver had to stop after lap 3 as the battery cable suddendly disconnected.
Alec Weckstrom was first out in Q2 and he could only manage to finish seventh in Pole with Poland's Bartek Marszalek eight and the new entry in Sharjah Team Ferdinand Zandbergen ninth.
Norway's Marit Stromoy who finished seventh in Q1 will start tomorrow from ten with Peter Morin, Cedric Deguisne, Kalle Vippo and Alexandre Bourgeot closing the list.
Portugal's Duarte Benavente from Atlantic Team didn't start due to problems to the engine.
The FIM- F1H2O Grand Prix of Regione Emilia Romagna will start tomorrow at 15.00 local time.